NEWS
'DWTS' Watch: Bristol Palin Bombs; Brandy's the Best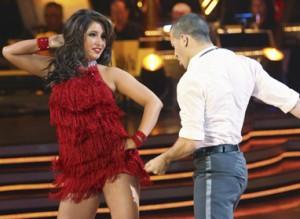 It wasn't much of a birthday celebration for Bristol Palin on Dancing with the Stars on Monday night. Sarah Palin's daughter, who emerged from a monkey suit to dance with partner Mark Ballas, got the lowest score on the hit ABC reality show on Oct. 18, her 20th birthday.
OK! GALLERY: DWTS CONTESTANTS HAM IT UP ON THE RED CARPET
DWTS watchers may well wonder if Bristol has reached the end of the line on DWTS, as her jive with Mark got a score of 18 out of 30. On a night in which all the couples danced to TV theme songs, hey, hey, Bristol and Mark got the Monkees theme and tried to make the most of it by wearing monkey suits for a few moves of their dance. Stripping off the furry costumes didn't seem to help, however, as Bristol, who has been criticized for her expressionless style all season, again performed tentatively.
Article continues below advertisement
While judges were mostly kind, with Judge Len Goodman calling the dance "good fun," Carrie Ann Inaba sighed that "you forgot a lot of moves."
Bristol and Mark didn't speak to print press after the show, but his father Corky Ballas, (who dances with Florence Henderson), told OK!, "Poor darlings. She just had a few mistakes. That was the problem." But Corky added, "Bristol is coming out of her shell. I agree with the judges—they thought she really tried to overcome this shyness and other than a few mistakes, I thought it was a cute, inspiring little number."
Corky hopes his son and Bristol can survive elimination despite getting the lowest score. Meanwhile, in an odd side note, Bristol's ex-fiance Levi Johnston had appeared on The View on Monday morning—and said he cared for her still as the mother of his son and wished her the best on Dancing with the Stars. Still, he struck another sour note by continuing to stand by his earlier statements that her parents Sarah and Todd's marriage was on the rocks.
Article continues below advertisement
OK! DWTS WATCH: JENNIFER GREY TANGOS TO THE TOP
But back at the ballroom, Brandy and her partner Maksim Chmerkovskiy had nothing but smiles, getting the highest score, 27 out of 30. Brandy and Maks opened the show—and quickly stole it--by quickstepping to the popular Friends theme song. Judge Len told Brandy he was "so impressed" with her "full of energy, sassy" dance. After the show, Brandy told OK! "I feel great. I'm having a good time out there. I felt really comfortable with Maks and I loved our song and it just translated tonight. I was just so happy with the comments, with the scores, and Maks. It's been a great week." Earlier in the season, rehearsal footage captured the duo arguing, but now they couldn't be happier. "I understand a lot better because I know Maks now," Brandy explained to OK!. "I know how to listen and to just let him do his thing. Ever since I've been doing that, things have been going better and better for me and for us."
Maks explained that on Monday night, "We stepped away from the idea of portraying a TV show. For us, when you see the excitement and friendship, that wasn't choreographed, that wasn't forced. That was very natural."
Longtime front runner Jennifer Grey and partner Derek Hough garnered 25 points, good for second place. Their foxtrot, performed to the theme from Married with Children, was called elegant by Judge Bruno Tonioli but Carrie Ann told Jennifer the dance was "out of sync" and that "it wasn't nearly your best." The pair's rehearsal clips raised eyebrows, as Jennifer was shown walking out on Derek after telling him to "control your temper!" But the Dirty Dancing actress and DWTS defending champ pro Derek quickly patched things up and it showed in their smooth dance.
Article continues below advertisement
Kurt Warner and pro Anna Trebunskaya, dancing the quickstep to the Bewitched theme, were rewarded with a strong mark of 24. Carrie Ann declared, "I just saw the spirit of Gene Kelly" and Bruno praised his "sparkling form."
Backstage, the former football quarterback told OK! "We felt we did the dance the way it was supposed to be done. I felt frustrated through most of the week, but in the last couple days, I felt really good about it. Coming into tonight, I felt we were going to do well." The couple originally was supposed to have a Bewitched-style prop in the dance—a fake black cat which would transform into Anna, she revealed, but it was scrubbed at the last minute. The dancer said producers told them, "It doesn't look good. We're not going to do it."
But Kurt and Anna DID look good, and continue to make progress in the competition. "I think we've shown versatility," Kurt said.
OK! GALLERY: THE STARS GET READY TO REHEARSE THEIR RUMBAS!
The other athlete in the competition, basketball player Rick Fox, and his pro Cheryl Burke tied with Kurt and Anna by getting 24 for their rumba, set to the tune from Hill Street Blues. Rick looked good in his police costume and Carrie Ann raved, "It got hotter and hotter." Meanwhile, judge Len praised his "ease and elegance."
Article continues below advertisement
Audrina Patridge and Tony Dovolani danced a rumba to the Natasha Beddingfield theme from her reality show The Hills and garnered a score of 23. Len complimented her "nice hip action" while Bruno was looking for more: "don't be plastic, be fantastic."
The couple revealed that there were technical problems with their music. Tony said the show "started the song wrong," by four counts. "It throws the routine completely off." Audrina admitted, "I kind of panicked a little bit." The dance partners stuck with it, however, and Audrina said, "It got back to normal." Audrina told OK! she wasn't perturbed that a few other couples had scored higher on Monday night: "Numbers are numbers. It was nice dancing to the Hills song. It brought back so many memories. This is going to be a new memory with that song. We've been working so hard this week and Tony has really been pushing me. I was just happy to get out there and complete the dance."
TV theme week was also familiar music to the ears of competitor Florence Henderson, who got her wish to perform to the Brady Bunch theme song. The beloved Brady mom and partner Corky earned 21 points for their tango. "I was thrilled. I think I did what Corky asked me to do. I finished strong. I could have done the number again!" Florence told OK! She was excited to have her TV son, Barry Williams, cheering her on in the audience. The TV icon also paid tribute to her late Brady Bunch husband, Robert Reed, telling viewers he "died of AIDS." Actually, although he was suffering from AIDS at the time, Reed died in 1992 from colon and bladder cancer.
Article continues below advertisement
After the show, Florence, 76, elaborated to reporters, "the reason I really wanted to dance to the Brady Bunch theme song was because I wanted to dedicate it to Bob. To lose him to AIDS—it broke all of our hearts and the fact that Barry was here and I knew how close they were. All of the kids were close to Bob so that was my dedication tonight." Barry also walked the press line with Florence and told reporters backstage, "Bob loved music but he had no rhythm. I think he's very proud tonight." Florence recalled of her TV mate, "he wanted to dance so badly!"
OK! GALLERY: DANCING WITH THE STARS CAST COMPETES TO REHEARSE
Actor Kyle Massey and his pro Lacey Schwimmer foxtrotted to the Charlie's Angels theme and the judges tore into them for their loose interpretation of the dance. Judge Bruno said there wasn't enough foxtrot visible, while Len blasted the couple: "It started out bad and got worse and worse. I thought it was terrible." They were left with a score of just 20, even though the crowd seemed to love their enthusiastic '70s homage, with Lacey donning Farrah Fawcett's feathered hairdo. Kyle and Lacey wound up second to last with only Bristol and Mark scoring lower.
Will the politician's daughter be voted off Tuesday night—or will the Corey in the House star have to pack his things and leave the ballroom? Tune in to see the week five results!