NEWS
DWTS Watch: A Double Dose of Elimination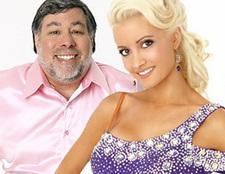 It was bound to happen eventually, but after skirting elimination in recent weeks, both computer-biz legend Steve Wozniak and Girl Next Door Holly Madison bit the ballroom dust in a double elimination on Dancing with the Stars on Tuesday night.
Steve, who earned just 12 out of 30 for his Argentine Tango on Monday, has been the lowest scoring competitor during the show, but his geek squad fans had pulled him through — until now.
Article continues below advertisement
But according to the always upbeat Woz, who danced with pro Karina Smirnoff, it's not the last we'll see of him in the ballroom. "I will be here watching my friends," he told OK! "I love every one of the other ones here — the professional dancers, the other contestants... I've written long personal letters to all of them, notes that say 'We're going to be friends forever.' I don't want to lose them; I don't want to never hear from each other again."
Steve is also committed to continuing to dance. "On my own, yeah! I made that decision. Not at first. It was some time working on the second dance, I just flipped over and I just loved it so much and I want to dance forever."
The cuddly Apple Computers co-founder said he was at a little bit of a disadvantage from the start. "I'd never watched the show before," he admitted. And although he also was hobbled earlier in the season by a foot injury, he told OK! the pain is now "gone. I stopped limping, stopped taking aspirin."
Article continues below advertisement
Another positive DWTS side effect for Steve — he claims to have lost about 40 pounds during the competition!
"I can sit in a booth in a restaurant now," he smiled to OK! "I used to be skinny, so DWTS is getting me back into exercise and when you exercise, you don't eat as much, either, because you just don't want as much food. Everything is balancing and going in a good direction. Karina said she would buy me a new belt. She said it was going to be red with sequins."
The Woz's pro partner says his high spirits are infectious. "Once you meet Steve, you want him in your life," explains Karina. "He's positive, charming, sweet."
As for Karina, she can watch the rest of the DWTS season from home with fiancé Maksim Chmerkovskiy, who was eliminated last week with partner Denise Richards. "Now we have more time, so we can talk about our wedding a little bit more and set the date," she says. "That's exciting. I can't wait!"
Article continues below advertisement
Next week, she and Maks will take the stage together for a professional dance number set to Etta James' song "At Last." How appropriate!
Meanwhile, Holly, who joined the show at the last minute after original cast member Jewel was injured during rehearsals, did surprisingly well considering her lack of prep time. But when she got scored a mere 16 for her Argentine Tango performance with partner Dmitry Chaplin on Monday night, she knew the end was near.
"I feel great because these four weeks have been amazing," Holly told OK! backstage. "I always wanted to do this show so I was grateful to have had the opportunity."
Next up for Hugh Hefner's former squeeze? She's "working on developing a reality show that I'm also going to be the producer of. I'm going to Vegas this week to shoot stuff. It's about me and my friends."
Holly, who suffered inflamed muscles around her ribs, said, "I feel pretty proud of myself that I could get through six-hour-a-day workouts but my body really took a beating this past two weeks so I'm definitely going to do a lot of healing."
Article continues below advertisement
Because of the double-elimination this week, there was no "dance-off" between the bottom two pairs. And pro Tony Dovolani tells OK! he approves. "I did like the 'dance-off,' but sometimes getting a night off is kind of what we all need."
Tony's partner Melissa Rycroft summed up the feelings of the rest of the cast, who will all miss Steve and Holly. "They brought a lot of laughs and smiles backstage," Melissa told OK! "Woz went out of his way to make sure everyone felt included. And Holly — nothing negative ever came out of her mouth."