NEWS
DWTS Watch: It Ain't Easy Being a Stevie!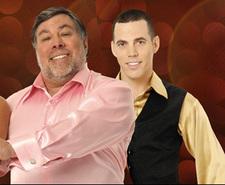 The two injured Steves earned the lowest scores on Dancing with the Stars on Monday night, while three other celebrities tied for first.
Jackass star Steve-O and computer guru Steve Wozniak first suffered injuries on the show — and then the judges' drubbing. Steve-O, whose back got hurt during last week's dress rehearsal, gave it his best but only received a 15 out of 30 for his foxtrot performance. Meanwhile, Woz, who has a pulled hamstring and foot injury, got the lowest score of the night, a 10, for his samba with partner Karina Smirnoff.
Article continues below advertisement
After the show, Steve-O, with partner Lacey Schwimmer by his side, told OK! "I'm a little bit disappointed, but I don't want to have a pity party."
Wozniak was his usual ebullient self, shrugging off the judges' pans: "I don't know if I could have scored myself so lowly. I would have thought, 'it looks good to me.' I do have real constraints on my movement. I could not walk out to my car right now in the parking lot. You would see I can't walk. I would be limping so badly. The producers almost wouldn't let me dance tonight but we worked the routine around what positions I could move my legs to without pain."
Meanwhile, actor Gilles Marini, former Bachelor star Melissa Rycroft, and gymnast Shawn Johnson are looking like the three to beat, with all tying for first with top scores of 27. Shawn delivered a graceful foxtrot with her partner Mark Ballas.
Melissa, who glided effortlessly through the foxtrot with partner Tony Dovolani, told OK!, "I don't remember the routine. I was nervous tonight." Tony said he told Melissa they would be like Fred Astaire and Ginger Rogers, but Melissa laughed to OK! backstage, "I still don't know who Ginger is. Sorry!"
Article continues below advertisement
As in the first two week, Gilles, who did the samba with pro Cheryl Burke, gave all the credit to her: "I'm thinking I have a very talented partner," he said to OK! "Me? Whatever. I'm just running around like a chicken. I've been saying over and over I cannot believe it."
While Denise Richards and pro Maksim Chmerkovskiy scored just 16 for their samba, with judge Carrie Ann Inaba saying the It's Complicated star looked scared on the dance floor, Girl Next Door Holly Madison and her partner Dmitry Chaplin were happy with their score of 17 for the same dance. Holly said, "I've been trying to put on a good show. Hopefully I'll be around next week; I definitely need to work on technique."
Country singer Chuck Wicks, who is competing with his real-life girlfriend, Julianne Hough, was pleased about receiving 23 for their foxtrot. "It actually feels like we have a chance," Chuck told OK! "Our goal is improve every week."
David Alan Grier's partner Kym Johnson told OK! how she was able to help the comedian get his solid score of 24 for foxtrot: "I put a bit of Broadway in there for him and I thought he felt very comfortable."
Article continues below advertisement
Lil Kim shook her booty all the way to a 25 in the salsa. DWTS viewers got, er, a lil more than they expected Monday night when the top of Kim's costume sagged and you could see the top of her breast pasty. Luckily, Samantha Harris put her arm in front of Kim in case it became more of a wardrobe malfunction. Backstage, Kim said her dance had "a lot of energy." And how!
Ty Murray's partner, Chelsie Hightower, slipped and fell during their foxtrot routine, which otherwise was judged well — they earned a 23. Chelsie told OK! "I fell on my dress. It's a little embarrassing! But Ty recovered like a pro. It's about him."