NEWS
Man Shoots His TV Screen After Bristol Palin's 'DWTS' Performance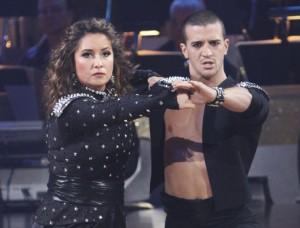 After Brandy was voted off on last night's Dancing With the Stars and Bristol Palin made it into the finals there were a lot of disappointed — and some enraged fans. But one 67-year-old DWTS viewer became so upset with the show that he fired a gun at his TV — and this was only after Monday night's episode!
OK! GALLERY: DWTS CONTESTANTS HAM IT UP ON THE RED CARPET
According to TMZ, the 67-year-old man from Wisconsin reportedly shot at his TV because he was so upset by Bristol's performance on DWTS.
Article continues below advertisement
Steven Cowan, according to local authorities, told officers he believes Bristol is not a good dancer and is only on the show because her mother Sarah Palin is famous.
The man reportedly became so enraged on Monday that he fired at his TV, according to officials, and then aimed at his wife, but she was able to escape the house.
DWTS WATCH: BRANDY ELIMINATED; BRISTOL PALIN MAKES THE FINALS
A SWAT team surrounded his home and were able to negotiate him into surrounding early Tuesday morning.
Authorities claim the man suffers from bipolar disorder. He was reportedly charged with 2nd degree reckless endangerment and, if convicted, could face up to 10 years in prison.
This DWTS competition is getting very personal.