NEWS
DWTS Watch: Lil' Kim's Wardrobe Malfunction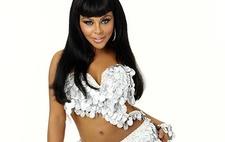 Rapper Lil' Kim and her partner Derek Hough may have been the top scorers on Monday night's Dancing with the Stars — earning two 10s with their fiery jive set to Elvis Presley's "Jailhouse Rock" — but their onstage success was nearly upstaged by a potential wardrobe malfunction!??
During the judges' critiques, host Tom Bergeron was forced to suddenly step between Kim and the camera to block what could have been some Janet Jackson-style indecent exposure!??
Article continues below advertisement
"Oh, the girls were trying to come out again!" the petite rapper-turned-ballroom dancer explained to OK! backstage. "I hate it when they do that, they're so nosy!"??
The dancing pair's cop-and-jailbird themed routine wowed judge Carrie Ann Inaba to the point of hysterics in her chair. It ultimately earned the couple a score of 28, with only Len Goodman, who gave their dance number a modest 8, not thoroughly impressed. "It's not a ballroom jive," he explained.
The other bright performance in tonight's show was Shawn Johnson's rumba, which the 17-year-old's partner, Mark Ballas, referred to as "age-appropriate." After the show, the Olympic gymnast revealed she felt a little embarrassed learning this dance of love.??"I couldn't really make it sexier or hotter, because I am only 17," Shawn told OK!, a sheepish grin spreading wide on her face. "But I felt confident out there and I'm proud of what I did."?
Article continues below advertisement
Shawn, who could miss her prom if she continues on the show, told OK!, "If I do have to miss it, this is the first place I'd want to be."??
The worst performance of the night was undoubtedly Jackass star Steve-O and his partner Lacey Schwimmer. The prankster performed a not-so-impressive rumba, earning himself an embarrassing score of 16, which definitely puts the pair in danger of going home on Tuesday night. But Steve-O tells OK! he remains hopeful.
??"I don't know, tonight I thought, 'Wow! That was the best I've ever done!' But certain people didn't see it that way," he told OK! backstage. It's hard to believe the goofball is even still competing considering he's been battling a fairly serious back injury. "It's still pretty messed up," he admitted, adding that "the left side of my pelvis is off-kilter... I think if I don't go home tomorrow night I will have set some kind of Dancing with the Stars record!"??
Article continues below advertisement
Meanwhile, rodeo boy Ty Murray and partner Chelsie Hightower failed to impress the judges with their line-dancing jive. Bruno Tonioli likened Ty's dance steps to that of a "wild animal" and an unimpressed Len called the performance "not good." Luckily, Ty had his most important fan — his wife, platinum-selling singer Jewel — cheering him on from the audience.
??Football legend Lawrence Taylor and pro partner Edyta Sliwinska managed to skate by with a score of 22. Carrie Ann told LT, "You got your groove back!" But the encouraging words weren't enough to satisfy one of the gridiron's iconic stars, who avoided the press after the show as usual.
"He takes it all very much to heart," partner Edyta told OK!. "He loves being on Dancing with the Stars, but he did not expect the judges to be so critical. He told me that this is the most stressful time he's experienced in the last 10 years." ??
Tony Dovolani and his partner, Bachelor beauty Melissa Rycroft, scored a very impressive 27 for their rumba. Meanwhile, crowd favorites — and the only team to score a perfect 30 so far this season — Gilles Marini and Cheryl Burke performed a leather-clad, sexy jive that earned them a score of 26.??
But the most passionate dance of the night was — of course — saved for last! Real-life couple Julianne Hough and Chuck Wicks turned up the temperature with their steamy rumba. Carrie Ann called it "the most passionate and sexy number of the night" while Len said "It was meant more for the bedroom than the ballroom." ???
So who's going home? Tune in Tuesday night to find out!
By Katie Rhames
Have a news tip or great photo you want to tell us about? Shoot us an e-mail: tips@okmagazine.com