NEWS
DWTS Watch: Melissa Rycroft Injured, Does Not Perform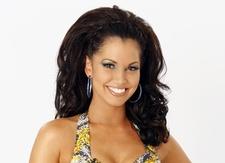 The most injury-filled season yet of Dancing with the Stars suffered another shocking setback on Monday night when the show's front runner, jilted Bachelor beauty Melissa Rycroft, was hurt during rehearsal and diagnosed with a hairline fracture to her ribs!
Although a doctor cleared her to continue dancing, she couldn't compete on Monday night and she and partner Tony Dovolani were judged on their dress rehearsal performance of the jive, earning a score of 21 out of 30.
Article continues below advertisement
After the show, Tony told OK!, "Melissa is resting right now and we're hoping the audience pulls through for us. She's going to be fine tomorrow. The treatment — it didn't go quite as expected, so it affected her breathing a lot. And even though she was in complete pain — and she has a high threshold for pain — she still came in and tried to dance for me. A half hour before the show started, we were on the floor trying to dance and she just buckled because she couldn't breathe. Fifteen seconds into the routine, I had to literally pick her up and take her to the red room and try to calm her down and get her to breathe again. My hat's off to her. She's such a trooper."
Although Tony said he couldn't offer details on Melissa's medical treatment, he sighed, "It's heartbreaking to see her go through that. I was fighting back tears all night tonight."
Tony has had back luck this season. His original partner, Nancy O'Dell, suffered a torn meniscus in her knee during rehearsals before this season of DWTS even began, forcing her to withdraw and opening the door for Melissa to step into her dancing shoes.
Article continues below advertisement
However, Tony insisted, "I don't think I've had bad luck. I'm a religious man so I never question God's way. If God intends for me to go through this, that means that he knows that I'm the strongest person to go through this."
And Tony is convinced Melissa will be back tomorrow night, raring to go. "Melissa looked at me and said, 'I don't care how much pain I'm in, I am going to go through this if the fans bring us back.'"
There could be a silver lining to this cloud for Melissa. Earlier this season, when an injured Steve-O was unable to compete live and was judged on his dress rehearsal, fans voted the Jackass star on to the next round.
This season has seen a rash of injuries. In addition to Nancy, original competitor Jewel also couldn't start the show and had to be replaced by Holly Madison. Gilles Marini has complained of a separated shoulder and Steve Wozniak was hobbled by a foot injury.
Article continues below advertisement
During the drama Monday night, Lil Kim and her pro Derek Hough quietly earned the highest score of the night, a 28 for their paso doble.
"Derek and I are the leader of the pack, but it's close," she sighed with relief after the show. Lil Kim said she and Derek try to stretch before rehearsals to avoid injuries. "Sometimes we don't get a chance to stretch if we have to jump right into it but I hate doing that — I like to stretch because even when I'm asleep at night, my body is settling into an intense knot," the singer revealed.
Gilles, who got a strong 27 for his lindy hop with dancer Cheryl Burke, said, "Hopefully Melissa can keep going. She's strong-minded. Melissa's great to have in the competition for everyone." Gilles says he's been taking care of his own injured shoulder: "I got a cortisone shot in it Wednesday."
Gymnast Shawn Johnson and her pro Mark Ballas tied Gilles and Cheryl for second place with a 27 for their samba. "I thought it went great. It was one of the more challenging dances for me. I struggled on it a bit this week but we nailed it today," Shawn said.
Article continues below advertisement
The competitors did a team dance in which Chuck Wicks and Shawn's Team Mambo squared off against Gilles, Ty Murray, and Lil Kim's Team Tango. Pro dancer Lacey Schwimmer, who was eliminated with partner Steve-O earlier this season, stood in for Melissa Rycroft on Team Mambo. Although Team Tango got 28, besting Team Mambo's 25, the latter got the biggest crowd reaction because Chuck, Mark Ballas, and Tony Dovolani became Men in Tights, wearing leotards at the end of the dance.
Country hunk Chuck and his girlfriend Julianne Hough continued to sizzle, getting a solid score of 26 for their cha cha cha. The pair finally seems to be both mastering the steps and capitalizing on their real life chemistry. "I feel sexy when I'm next to him," Julianne smiled to OK! "He makes me feel like a woman because he's such a man!" Chuck said of donning a leotard for the group dance, "It was hilarious. When you go that far over the edge with something, you already know what's going to happen, so I was hoping nothing came out. It's very frightening wearing something like that."
Article continues below advertisement
Ty and partner Chelsie Hightower only got a 24 for their salsa, and judge Len Goodman bluntly said the rodeo champ should "hit the trail," putting them in danger for Tuesday night's elimination round.
But Ty shrugged, "We don't waste any energy thinking about that or worrying about it or trying to second guess it. All we can control is how hard we practice." And Ty was busy getting the ultimate DWTS experience this week, his first spray tan! "They had to put about 40 coats on me," he chuckled. "I was so white I was blue. I wear a cowboy hat and a long-sleeved shirt every day, so I don't sun tan."
While Melissa is nursing her injury, the rodeo veteran said he knows how she feels: "I've had both my shoulders and both my knees completely reconstructed and I have a plate in my neck." About judge Len, Ty asserted, "He's like, what are you doing in my ballroom? But I feel like I'm getting along better in his world than he would be getting along in my world."
By Carole Glines