NEWS
'DWTS' Watch: Niecy Nash Leaves Laughing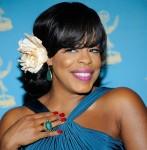 Niecy Nash entertained Dancing With the Stars fans all season with her comic timing as well as delivering the goods on the ballroom floor. On Tuesday night, however, the laughs were over as she and Louis Van Amstel were eliminated from the show.
The dance partners couldn't survive after they got the lowest combined judges' scores Monday night for their Viennese Waltz and Paso Doble. They only got 20 out of 30 for their Paso, which had an awkward 1990s theme.
Article continues below advertisement
OK! DWTS WATCH: NICOLE SCHERZINGER & DEREK HOUGH WIN AGAIN
But the Clean House and Insider star went for more humor after her ouster. When asked how she felt, curvaceous Niecy told reporters, "hungry!" More seriously, though, the fifth place finisher said, "my plan was to win the mirror ball trophy. I felt a little short but what I did do was actually fulfill my childhood dream."
"I wanted to be a dancer since I was in the eighth grade and every time I came out there on that floor I had the opportunity to live my dream. It was a dream fulfilled."
OK! NEWS: NIECY NASH JOKES ABOUT KATE GOSSELIN
When Niecy comes back to the show in two weeks for the reunion of all the season ten alums, she plans to, "dance to my favorite song in the history of the world, 'Bootylicious'. When I come back and dance to that, Americans are going to be, like, 'we made a mistake!'"
Unlike most DWTS participants, Niecy had no desire to lose weight and get rid of what she affectionately called her jiggly parts. Louis told OK! she had dropped some pounds anyway, but Niecy said, "I don't get on a scale so I don't know."
Article continues below advertisement
OK! POLL: ARE YOU OVER KATE GOSSELIN ON REALITY TV?
Her loyal partner said Niecy made a strong run at the trophy, "I think of all of the contestants, she's been the most improved."
Niecy gave her boyfriend Jay Tucker, who has supported her in the audience all season, a big hug after the show. She confided to OK! a few weeks ago that she wants an engagement ring soon from her man. Meanwhile, even without DWTS, her career plate is full: "There are a million other places you can find me."
MORE ON:
Nicole Scherzinger
OK! NEWS: ERIN ANDREWS ON ELISABETH HASSELBECK: "SHE CALLED ME. I DIDN'T SPEAK WITH HER"
Niecy's co-star, ESPN's Erin Andrews, who dances with Maksim Chmerkovskiy, said, "we're all very close to her. I'm glad I'm staying but I'm sad our friend is going. She can make me laugh and make me cry all at the same time. She was really good for some therapy sessions."
Erin revealed Niecy gave her some advice: "just some stuff about my personal life. She's very smart and witty." Niecy confirmed, "I gave all of them heart to heart advice on life, love, all their shenanigans and hijinks and cutting up and I gave them snacks. I don't know what they're going to do without me!"
Article continues below advertisement
OK! NEWS: TONY DOVOLANI DISHES ON KATE GOSSELIN POST-DWTS
Now the final four — Erin, Chad Ochocinco, Evan Lysacek, and Nicole Scherzinger — move on to next week's semi-finals with their partners. Season eight runner up Gilles Marini, who now stars on ABC's Brothers and Sisters and was a Tuesday night audience member, told OK! it will be a tough battle.
"I'm very excited to see the rest of the season. Nicole is very well trained. She has so much performance background," he says. "Evan has the Olympic fan base. Erin is not a dancer and she's tried the hardest, like Chad. Now, we have four people, two are trained and two are not. Let's see what people relate to."