NEWS
'DWTS' Watch: Nicole Scherzinger & Derek Hough Win Again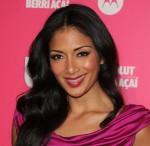 Nicole Scherzinger and Derek Hough look like they can't be beat on Dancing with the Stars, scoring the second perfect thirty score on the show Monday night.
On a Monday night in which the five remaining couples on the show had to perform two dances (with one having a retro theme), Nicole and Derek scored 29 out of 30 for their waltz and 30 out of 30 for their 1950s style Paso Doble.
Article continues below advertisement
Their total of 59 out of 60 set them apart from the rest of the competition. Their perfect 30 dance had normally tough judge Len Goodman shrugging that there was "nothing I could see to criticize." And Carrie Ann Inaba simply gasped: "How did you do that? Brilliant!"
After the show, Derek told OK!: "I'm thrilled with what we did tonight. It was such a groundbreaking night for us. It's week eight and we didn't want to come out here and just do two dances. We wanted to come out here and do two great dances and I felt like we achieved that."
OK! NEWS: PAMELA ANDERSON SAD TO LEAVE DWTS
Meanwhile, judges gave Evan Lysacek and his pro Anna Trebunskaya a 27 for their waltz and a 26 for their futuristic cha cha for a total of 53. "I think it went really well," Evan said after the show.
"We tried to be really creative with our dances and show a very different side from the cha cha to the waltz and I think we accomplished that. The two characters have could not been more opposite."
Article continues below advertisement
OK! NEWS: TONY DOVOLANI DISHES ON KATE GOSSELIN POST-DWTS
Evan said the futuristic cha cha matched the least of all the "retro" concepts of the night, making the choreography difficult, but they did their best.
The Olympic gold medal winning ice skater sported elaborate hair and makeup for the futuristic dance and said, "I'm going to leave the face paint on tonight, go out to dinner, and see what kind of reaction that gets out in LA."
OK! VIDEO: ELISABETH HASSELBECK CRIES APOLOGY TO ERIN ANDREWS
He said of DWTS front runner Nicole, "her level of dance is incredible and rivals most of the pros on the show." Anna added that the Pussycat Doll deserves her high scores: "This girl works her butt off! That work really pays off. They were wonderful tonight."
Erin Andrews and Maksim Chmerkovskiy, who have made reporters wonder if they are dating all season, were playful with each other backstage, as he jokingly handed her a disco ball that was similar to the DWTS trophy that goes to the winner every season.
Article continues below advertisement
DEREK HOUGH'S EXCLUSIVE DWTS BLOG: WALTZING TO A HIGH SCORE
The couple had reason to smile, as their Argentine tango garnered a 28 and their 1980s themed rumba got a 25 for a total of 53. Judge Carrie Ann raved of their sexy tango that it was "so hot!" Bruno Tonioli confirmed, "you were on fire!"
Erin told OK!. "I thought the evening was great. We're very happy." The ESPN reporter argued with Maks about jumping off stairs in rehearsal, saying she was scared, but pulled it off perfectly during the live dance.
OK! NEWS: TONY DOVOLANI AND KATE GOSSELIN PLAN PLAYDATE
Maks teased her after the show, "there's a lot of women out there who would want to jump into my arms." He suggested the TV beauty is complaining a lot, but Erin said, "I love my Russian!" and put her arm around him.
Erin insists she's not put off by Maks or the dance schedule. "This has been exactly what I wanted out of my life. Sleep can wait."
Article continues below advertisement
OK! DWTS WATCH: PAMELA ANDERSON HANGS UP HER DANCING SHOES
Football star Chad Ochocinco and partner Cheryl Burke could be in danger in tomorrow's elimination night, as they got 21 for their tango and 24 for their 1960s style jive for a total of 45. Judge Len sniffed that Chad's tango "needed a little more polish."
However, after the show, Chad insisted to reporters that the tango was his favorite dance. "Cheryl and I put in hours and hours of work," he added. His pro said: "We couldn't do anything more than what we did."
OK! NEWS: NIECY NASH JOKES ABOUT KATE GOSSELIN
Cheryl hopes they pull through in Tuesday's elimination show. "The one thing he has over every competitor on this show is his smile and his warmth. That's his secret weapon."
And even more in jeopardy are Niecy Nash and Louis Van Amstel, who took home a 23 for the Viennese waltz and 20 for their 1990s Paso Doble. Could their total of 43 out of 60 cause viewers to vote them off?
Article continues below advertisement
OK! NEWS: CHAD OCHOCINO ASKS CHERYL BURKE "ARE YOU REALLY IN LOVE WITH ME?"
Judge Len commented that for week eight of the show, their second dance "wasn't good enough." Still, the criticism might not have been fair, as Niecy and Louis got stuck with the 1990s, "the least iconic era there is," Louis sighed to reporters backstage. "1990s is a muddle of everything — but we were wearing Versace."
Niecy admitted backstage after the show that she hurt her left ankle — but downplayed it. "I had a minor little injury earlier in the week, but I'm good now."
OK! DWTS WATCH: JAKE PAVELKA STUMBLES OFF THE DANCE FLOOR
The Clean House and Insider star, 40, said the dance schedule combined with her other work has taken its toll. "This week was hard. I mean, I work a million jobs and Louis told me if we make it through, I've got to cut something out, which I'm really hoping I do because I have some parts I haven't shaken for America," she said, in a reference to her curvaceous body.
Article continues below advertisement
"I'm so happy to be here. I'm the oldest left, the only mother. I might not have a litter of kids like Kate Gosselin, but I'm still standing!" She's not afraid of what Tuesday could bring, saying, "everybody can be in danger tomorrow. Just because you have good scores does not mean you have a good fan base.
OK! DWTS WATCH: NICOLE SCHERZINGER BEATS INJURY TO WIN
"All of that has to get factored in. I entered the competition to win and so we'll see what happens. My biggest fan base is probably the girls at home having a snack right now!"