NEWS
Tony Dovolani Dishes on Kate Gosselin Post 'DWTS'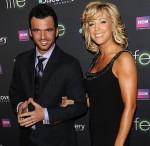 Although Kate Gosselin didn't make the cut on Dancing with the Stars, her partner Tony Dovolani gushed to OK! on how the mom of eight is doing back at home, their plans to arrange a play date with each of their children, and how he handled the rough times during rehearsal.
"Kate is wonderful and she misses dancing," Tony explained to OK! at the 17th Annual Race to Erase MS Gala on Friday, "How could she not be happy to be home? She is with her kids."
Article continues below advertisement
And, while Kate and Tony may have bickered a bit during rehearsal, the dancing pro reveals that the team plans to get together with their children.
KATE GOSSELIN & TONY DOVOLANI PLAN PLAYDATE
"I have been keeping in touch! We talk every couple of days. She is a sweetheart and I think that she is an incredible mom and I think I will always keep up with her. Those babies are just adorable and they are the sweetest kids."
"We are planning on having a nice barbecue together," Tony told OK! of hanging with Kate's brood of eight and his three children, "I can cook. I'll do the cooking. I made her chicken for dinner once."
Tony even opened up to OK! on how he tried his best to handle the rough times with Kate.
KATE GOSSELIN TAKES HER SEXTUPLETS ON A FIELD TRIP TO THE MALL
"That's why I am called a professional because I am supposed to handle it like a professional. I had one weak moment, which they showed on air and the interesting thing is that everyone else has walked out of a practice room, but because my partner was Kate Gosselin, apparently they showed it. It was great TV though. I must admit."
Article continues below advertisement
Weak moments aside, Tony admits that for someone going through a divorce under such public scrutiny, Kate amazed him every day.
KATE GOSSELIN TAKES OUT $7,000 HAIR EXTENSIONS
"I saw improvement every single week. It was something that she had to learn how to show facial expressions and I mean, she was in the public eye for so long and her divorce was pretty publicized so it was really hard for her to show her true emotions," Tony explained at fellow DWTS cast mate Chery Burke's birthday on Monday.
"It was quite interesting at times, but nevertheless, I think she did an incredible job."