NEWS
DWTS Watch: Toni Braxton Goes Bye-Bye!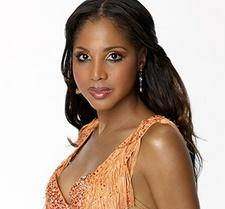 Toni Braxton once looked like a favorite on Dancing with the Stars. The singer, who has a heart condition, performed well during the show's first week, but faded after that. And after five weeks of tough competition, she became the latest celebrity eliminated from the hit ABC show.
On Monday night, judges didn't like how Toni had thrown a moonwalk step into her West Coast Swing with partner Alec Mazo, to go with their song, Michael Jackson's "The Way You Make Me Feel." And after they earned a score of just 22 for their dance, their fate was sealed.
Article continues below advertisement
Unlike previously eliminated stars on DWTS, the "Unbreak My Heart" singer didn't speak with the media backstage. But her dance pro Alec told OK! it was "disappointing we didn't go further because she's a perfectionist and we really wanted to push it. I think that inconsistency killed us. Her schedule was so tight and it was difficult to be able to allocate the time that needs to be allocated. We were trying to work around it. Maybe if the judges were a little lighter?"
Alec said DWTS is hard for any celebrity: "It's a gamble. Anytime you go into a show like this, it's untested territory for everybody. She's very established where she is, in singing. She has very high expectations for herself. Her number one priority was to actually get healthy — that she came out and proved to herself that she's capable of moving physically — and she was."
Lance Bass, who got a lower score than Toni for his West Coast Swing with partner Lacey Schwimmer, but was voted through to next week, said Toni's "going to be so missed. I met her ten years ago — back in the day we all did music shows."
Article continues below advertisement
Lacey, who will guide Lance in the jive next week, added, "She was like the mommy backstage. She was so sweet, always making sure everyone was doing okay."
Warren Sapp, who electrified the crowd Monday night with his hustle, said his mom and Toni's mom became friends through the show.
Cloris Leachman hopes to stay in touch with Toni: "We're going to have lunch or something."
And Cody Linley, who is set to perform the samba next week, told OK! "It's getting harder and harder every week to say goodbye because this group is getting tighter and tighter."