NEWS
Dwyane Wade Warns Girlfriend Gabrielle Union about her Manicure: "No Chips!"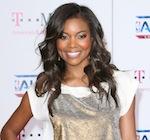 Dwyane Wade may be happy in love with girlfriend Gabrielle Union, but the NBA pro still has a few preferences about how he likes his women, especially when it comes to a good manicure!
"I just feel that, I like when women take care of themselves like take care of their feet and their toe nail polish is painted well and hands the same way, no chips!," Dwyane joked to OK! at the T-Mobile Magenta Carpet for the 2011 NBA All-Star Game on Sunday in L.A.
Article continues below advertisement
OK!'S NYC FASHION WEEK BLOG: NICOLE MILLER
When Gabrielle found out about her boyfriend's comment a few minutes later, she couldn't help but take it to heart.
"Was that a subtle dig?," Gabrielle laughed to OK! after hearing that Dwyane didn't like chipped nails, "He pointed out earlier today that it might have been a little overdue and I should've taken care of that. Wait, way to battle it out in the press!"
But, maybe it's Dwyane who's the high maintenance one in the happy couple's budding relationship?
"He loves mani/pedis," Gabrielle told reporters of the Miami Heat player, "He's a little more into it than I am. He is my Diana Ross. He's awesome."
OK!'S NYC FASHION WEEK BLOG: CHRISTIAN SIRIANO
Beauty preferences aside, this duo couldn't be happier together as Dwyane gushed about spending time with 38-year-old the Bad Boys 11 actress.
"We have a lot of things that we do like to do together. We spend quality time together and I think quality time is better than just spending time," Dwyane explained and Gabrielle agrees that she is taking their relationship seriously. "Slow and steady wins the race."
Dwyane played on the Eastern Conference team with LeBron James at last night's 2011 NBA All-Star Game at the Staples Center, losing to the Western Conference team by just a few points!