NEWS
Eat Me: Serve Up a Celeb-Enjoyed Treat!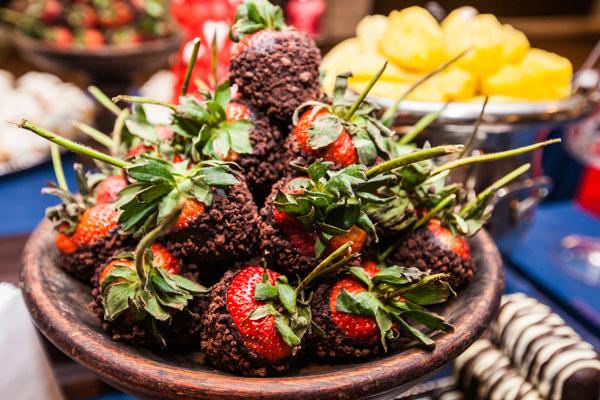 Take note, guys! When you've exhausted the jewelry gifting route (as if that could ever happen) and need to give your florist a break, you're always safe with homemade tasty treat. We can't stop raving over these recipes prepared by celebrity event planner Lawrence Scott.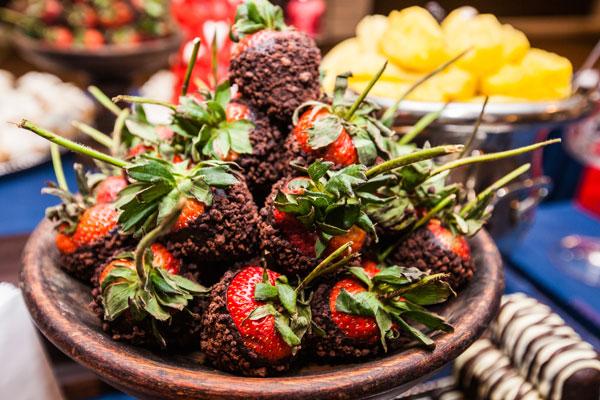 Article continues below advertisement
Putting that box of truffles to shame, this chocolate covered strawberries recipe is individually garnished with loads of crunch, and it's celeb-enjoyed. Don't they look amazing? Andy Cohen, Christie Brinkley, Mariska Hargitay have all tested this produce-based concoction at the Hamptons Magazine 35th Anniversary Party.
Looking for a reason to give you sweet tooth a break? The Parmesan Birds Nest Cups filled with Caesar Salad should help you out in that department. Kelly Clarkson had this savory snacking situation delivered to her dressing room at her summer benefit concert. Take about performance fuel!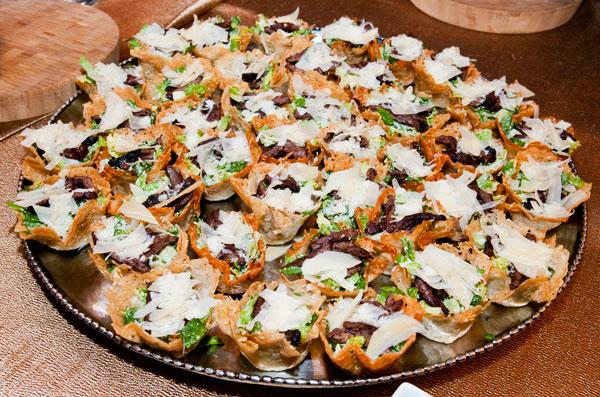 And then, of course, when the clock strikes happy hour, you can try the Blue Whale—a drink that was literally the star at dinner during Kelly Clarkson's benefit concert.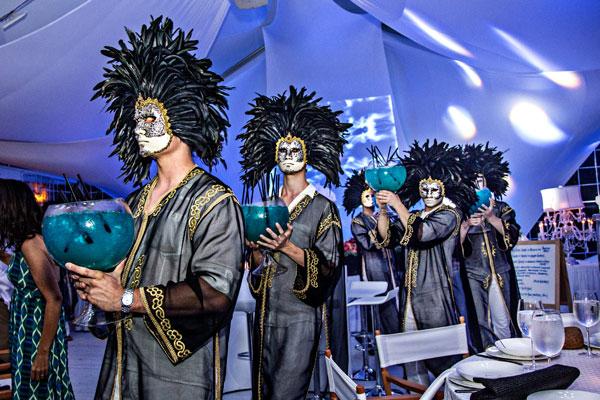 See below for the step-by-step for each of these recipes!
Chocolate Dipped Crunch Stem Berries Stuffed with Cream Cheese Mousse
1. Take the cream cheese and let it turn to room temperature.
2. Add vanilla extract and powdered sugar.
3. Add fresh whipped cream and whip well into the cream cheese.
Article continues below advertisement
4. Put into a zip lock bag. Seal this bag and cut a small slit into the corner of the bag.
5. Pick your berries. Wash them and let them air dry
6. Hollow out a small portion of the stem of the berry and fill with it your cream cheese mousse. You can do this using a pastry bag.
7. Dip the strawberry into melted milk chocolate and let it dry.
8. Next, dip it into melted dark chocolate.
9. While they are still wet, roll them in crumbled chocolate crunch. Let the strawberries cool down.
Parmesan Birds Nest Filled with Chopped Caesar Salad
1. Take shredded parmesan and pack it onto the back of a metal ladle.
2. Turn your broiler on and place the ladle under the flame. Within an amount of seconds, the cheese will melt together and take on the form of the ladle.
3. Take it out of the broiler and gently place it on a cool surface. Peel off the cheese to create a bowl shape.
4. Place upright and press downward to make a flat surface for your bowl, leaving the rough edges around the bowl.
Article continues below advertisement
5. Do all of this until you've completed making all the nests.
6. To begin making the salad, take a large head of romaine lettuce and chop it into little pieces.
7. Add in your favorite Caesar dressing and toss in romaine lettuce.
8. Fill each of your birds nests and garnish with shaved parmesan.
Blue Whale Cocktail
Ingredients:
1/3 Blue Curacao
2/3 Vodka
1 Dozen Blue and White Gummy Sharks
Crushed Ice
Oversize Glass and Straws
Directions: Mix Curacao and vodka and pour over crushed ice. Float little gummy sharks in the drink and serve with multiple straws.
Will you try any of these snacks? Tweet @OKMagazine and leave a comment below.