NEWS
Eddie Cibrian's Ex Says She'll Never Marry Again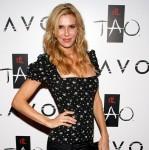 Brandi Glanville was letting loose in Las Vegas over the weekend to get away from the drama that has become her life since her husband Eddie Cibrian reportedly left her for LeAnn Rimes.
OK! GALLERY: LEANN RIMES AND EDDIE CIBRIAN ARE LOVE DRUNK IN CALI
"I'm here with my girlfriends to have a good time to have a good time," Brandi told reporters at Lavo nightclub's two-year anniversary party in Las Vegas at the Palazzo hotel on Friday. "I've had a couple days off, I've had a lot of drama lately, so we thought we'd just come, and cut a rug, and shake a leg and have fun with the girls."
Article continues below advertisement
So what's the recent drama?
"Eddie and I both know the truth. Actually, LeAnn knows the truth about it, as well," Brandi said. "And that's all I have to say about it."
OK! NEWS: EDDIE SAYS EX IS SABOTAGING HIS RELATIONSHIP WITH LEANN
And she's keeping her feelings about Eddie focused on their children.
"He's the father of my children. I keep telling him, we bred well. Because our kids are amazing. They're so talented and smart and wonderful and healthy, so ultimately, we bred well," she explained. "Do you know what I mean? We did! We had these, like, super-human babies. Otherwise, we definitely have had out share of drama."
As for their kids?
"They could not be better," she shared. "They're really happy with me, and they're really happy when they're with their dad and her."
OK! NEWS: EDDIE CIBRIAN'S EX ON HIS AFFAIR — "I LITERALLY WENT & THREW UP"
Personally, Brandi is doing well too!
"I'm lit. I'm good. I have an amazing man in my life," she said. "I love my kids and I'm having the best time ever with my girlfriends, so, yeah, there's a light. It's lit, it's on."
Article continues below advertisement
And she's very happy with the man in her life!
"It's good!" Brandi said of her love life. "I'm dating — casually dating — a guy for nine months. Not exclusively, but we have a great relationship, and I'm really happy with him."
OK! GALLERY: LEANN RIMES & EDDIE CIBRIAN ARE PDA FRIENDLY
So, what has Brandi learned from this entire ordeal?
"Own your s**t. If you're going to do it and say it and pop it, own it," she explained. "Just don't lie. That's it"
And she has some advice to share with other women!
"Just don't get married," Brandi warned. "It's an old-fashioned idea that doesn't work, but relationships are amazing and love is amazing and you can have all of that without a piece of paper that tells you what to do."
OK! NEWS: LEANN RIMES WELCOMES EDDIE & HIS BOYS INTO HER HOME
Guess that means Brandi will never marry again?
"Nope! Never," she confirmed. "I'm done. I did it. Are you kidding? I'm done."