NEWS
Eddie Says Ex Is Sabotaging His Relationship With LeAnn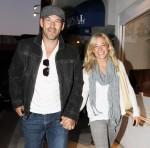 When reports surfaced today that Eddie Cibrian is cheating on LeAnn Rimes, the star went straight to his Twitter to deny the reports — and blame his ex-wife, Brandi Glanville.
OK! GALLERY: LEANN RIMES & EDDIE CIBRIAN ARE LOVE DRUNK IN CALI
Although the couple is reportedly vacationing together in Montana, Eddie and LeAnn are still Tweeting and clearing up the gossip they were trying to get away from.
Article continues below advertisement
"Once again my ex has stooped to a new low attempting to sabotage my beautiful relationship with LeAnn," Eddie Tweeted. "Not surprisingly the ONLY magazine that decided to run the story shares the same credibility and delusion as my ex. They should be ashamed of themselves."
And then he Tweeted some words of wisdom.