NEWS
Eddie Cibrian's Ex-Wife Left Out of Son's Upcoming Birthday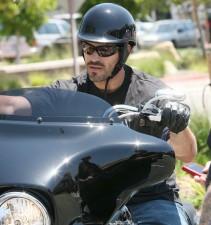 While LeAnn Rimes has been publically seen romantically involved with Eddie Cibrian, his ex-wife Brandi Glanville is claiming that the country singer is making it difficult for the two to co-parent post divorce, especially with their son's birthday coming up.
"Eddie and I had planned to do something together and small for Jake's upcoming birthday on April 15th. He has changed his mind. He is now saying I can't see Jake on his birthday because it falls on his custodial day and it would make LeAnn uncomfortable," Brandi explained according to E! Online.
Article continues below advertisement
OK! NEWS: EDDIE CIBRIAN'S WIFE DEMANDS MORE MONEY
And while Brandi has been trying to keep her cool regarding the situation, the mom of two is starting to get frustrated with her ex-husband's new girlfriend.
"I have already spent Christmas Eve and Christmas morning alone, missing my children, and crying because I have no family near by. Jake is my son, not LeAnn's. He should be with both his parents on his birthday."
OK! NEWS: LEANN AND EDDIE - ALREADY READY FOR BABY?
Even after Brandi has sacrificed holidays away from her son and has made extra strides to accommodate her former hubby's vacation plans as she, "signed and notarized a document saying they could take my kids out of the country to Mexico on vacation," she is just worried that Jake isn't getting enough attention.
"Eddie seems to care more about LeAnn than what is best for our kids. He doesn't even come to Mason's baseball games on my days because LeAnn doesn't want him around me," Brandi gushed of her other child.
PHOTOS: LEANN AND EDDIE ARE PDA FRIENDLY
Regardless of being uncomfortable or not, Brandi just wants what is best for her son and tells E! News, "I don't care if LeAnn is sitting next to me when Jake blows out his candles. I will be there."