NEWS
Elena Makes a Choice Between Stefan & Damon on 'The Vampire Diaries' Midseason Premiere!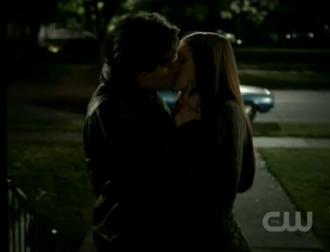 It was a moment The Vampire Diaries fans will NEVER forget — the ending scene of the mid-season premiere when Damon goes in for the kiss and Elena (finally) doesn't back away! Swoon, cry, do whatever you want — it was magical.
But, the epic chemistry between Elena (Nina Dobrev) and Damon (Ian Somerhalder) wasn't the only thing that made the Jan. 5 episode of The Vampire Diaries unforgettable. Mystic Falls was filled with drama, and it was all due to Klaus' (Joseph Morgan) vengeance on Stefan (Paul Wesley).
Article continues below advertisement
Once Klaus found out that Stefan stole the coffins that were housing his family, the hybrid master planned to slowly destroy everyone Stefan loves, starting with, duh, Elena.
OK! VIDEO: WATCH THE TRAILER FOR THE WINTER PREMIERE OF THE VAMPIRE DIARIES!
Although the obvious choice would be to go after Elena herself, Klaus decided to take down her tragic brother, Jeremy (Steven R. McQueen), by getting his newest hybrid Tyler (Michael Trevino) to hang out with Jeremy and ween him off vervain so he could compel him. And compel him he did. Klaus convinced Jeremy to stand in front of an oncoming car, driven by one of his crazy hybrid henchmen.
But, of course, Alaric (Matt Davis) saved the day and pushed Jeremy out of the way, taking the blow for him. Luckily, Ric had his ring on, but it didn't save him like it normally would. He had bad internal injuries and ended up being rescued by Damon — or shall we say Damon's blood.
One person (well, vampire) who didn't survive this episode though was Rebekah (Claire Holt). Although Elena gave a stone-cold (literally) Rebekah back to her brother Klaus, in order to make a deal, he kills her — which is probably a whole other storyline in itself. What does this guy have up his sleeve now?
Article continues below advertisement
OK! NEWS: THE VAMPIRE DIARIES ADDS ONE TREE HILL'S TORRY DEVITTO TO THE CAST!
When Elena goes to tell Stefan what Klaus has in store for her family if he doesn't return the coffins, Stefan — in his new bad-a** form — basically tells Elena he could care less and that it's not his problem what happens to her or Jeremy. That's when Elena finally realizes Stefan is never going to be who he was and slaps him right across the face in pure disgust! (Team Delena, you enjoyed that, didn't you?)
And when you mess with Elena, you mess with Damon — who is head over heels in love with his brother's girl. Damon tries to talk to Stefan, who confesses that he didn't kill Klaus in order to save his life, which Damon doesn't take lightly. Being noble isn't a trait Damon appreciates.
After Elena figures out that Jeremy will be in danger if he stays in Mystic Falls, she tells Damon and Alaric that he needs to leave in order to live a normal, human life. That's when Damon compels Jeremy to leave and "never think twice" about Mystic Falls. Elena's heartbreak was hard to watch, but we have a feeling Jeremy will be back — and if he doesn't return, they'll need to find a new hottie human to replace him.