NEWS
Elizabeth Reaser: "Here's a Naked Picture of Robert Pattinson & Kristen Stewart"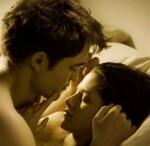 Twilight fans should show some love to Elizabeth Reaser right now. She's really been doing a good job sharing the dirt from the Breaking Dawn set! And she's happy Twilight is sharing a glimpse at the steamy sex scene picture of Robert Pattinson and Kristen Stewart!
OK! NEWS: ROBERT PATTINSON & KRISTEN STEWART'S BREAKING DAWN DAUGHTER A "SWEETHEART" ON SET
Twilight's vampire mother Elizabeth feels for her co-stars Rob and Kristen and how hard Twi-hards go crazy for them.
Article continues below advertisement
"It's a complicated situation," she told E! News. "If you're going to be an actor and you don't want to do dinner theater and you want to do movies like this, it's a crazy risk."
"I know for me, you want people to watch you tell stories," she added. "There's some part of you that is somewhat of an exhibitionist... I'm not saying you want people to chase you down the street screaming and attacking you, but it's a price you have to pay, I think."
OK! NEWS: KRISTNEN STEWART'S VAMPIRE TRANSFORMATION "SCARED" HER TWILIGHT CO-STAR
But Elizabeth also feels for Twilight fans and says they're not saying goodbye just yet!
"We have so far to go that it doesn't feel like we're anywhere near the end," she said. "Plus we're going to promote these for a few more years, you know. So we're nowhere near the end."
And she's glad Twilight Saga: Breaking Dawn is giving fans some sneak peeks into the steamy scenes they're looking forward to!
"At least everyone knows: OK, people are naked," she confirmed. "Just in case the frenzy was dying down, just in case no one cared, here's a naked picture of Rob and Kristen."