NEWS
Kristen Stewart's Vampire Transformation "Scared" Her 'Twilight' Co-Star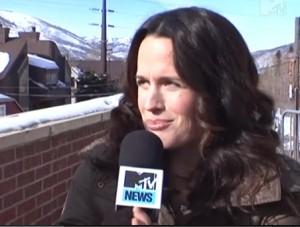 Article continues below advertisement
"There's been some really cool stuff in the Cullen house with Bella," Elizabeth told MTV News. "There's been some interesting transformations happening."
So how is Kristen doing pulling off her vampire transformation?
"She scared me a little bit on Thursday, I'll be honest with you," she said. "Because when vampires are newborns, they're stronger than any other vampires, so for a second there I thought, 'This might not end well. She's looking pretty pissed right now.' It was great."
OK! NEWS: ROBERT PATTINSON ON KRISTEN STEWART AS A VAMPIRE — "SHE WANTED TO DO IT THE ENTIRE TIME"
And Robert Pattinson and Peter Facinelli have had a similar reaction to Kristen's vampire portrayal.
"It's really funny, it's like a completely different environment on set when she's a vampire and when she's not," Rob previously told MTV News. "I think she's going to do it really well."
"She's doing really well. She looks fantastic," Peter also previously said. "For some reason, once they put those contact lenses in, you look very statuesque."
Or maybe time Kristen had to observe the other actors play vampires has helped her! Either way, it sure sounds like Twi-hards can expect a great film coming their way!