NEWS
Elizabeth Taylor's Death Mourned by Kim Kardashian: "She Will Always Be My Idol"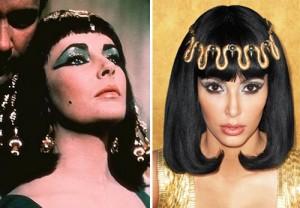 Kim Kardashian is mourning the loss of her idol Elizabeth Taylor. The reality star drew great inspiration from the Hollywood legend, most recently paying homage to her iconic role in Cleopatra (1963) by posing as an Egyptian queen for the March issue of Harper's Bazaar.
"I am so saddened about the passing of Elizabeth Taylor! She will always be my idol!" Kim Tweeted today.
Elizabeth died today at the age of 79 after succumbing to congestive heart failure. Her legacy of films, philanthropic outreach and driven work ethic as a businesswoman have made her a true icon in the Hollywood community.
Article continues below advertisement
She won two Best Actress Oscars, the first in 1961 for her role in Butterfield 8 and the second in 1967 for her role in Who's Afraid of Virginia Woolf?
In 1993, she won the Jean Hersholt Humanitarian Award for her activism.
Kim voiced her excitement and pride about honoring the legend in the Harper's shoot.
"OMG! My cover spread for Harper's Bazaar just came out and I love the way the photos turned out!! This has got to be one of my favorite shoots I've ever done," she shared on her blog when the issue came out.
"Elizabeth Taylor is one of my all time favorite Hollywood style icons," Kim added. "She epitomizes Hollywood glamour and beauty and to have the opportunity to interview her for this article was such an honor!!"
In the issue, Kim had the opportunity to interview Elizabeth on her signature style.
Catch an expert from Kim's interview with Elizabeth below and read the full exchange HERE.
Article continues below advertisement
KK: For this story, we were inspired by Cleopatra. What's your advice on how to be a queen?
ET: I have never wanted to be a queen! Cleopatra was a role, and I am an actor, so it was fun to play one, but it's not real. The real Cleopatra had an incredibly complicated life, and she had to be very, very canny to survive as long as she did. For me, the most interesting thing about her was her passion. The things that are important to me—being a mother, a businesswoman, an activist — are all things that were borne out of great passion.
Watch a behind-the-scenes look at Kim's shoot.