NEWS
Ellen DeGeneres Generously Walks With Richie Rich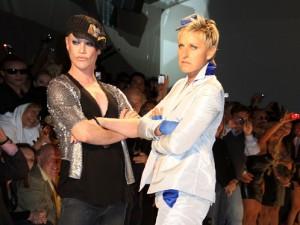 Designer Richie Rich invited Ellen DeGeneres to walk the runway of his 2010 New York Fashion Week runway on Thursday and she generously accepted! Ellen strutted her stuff with lots of attitude down the runway in NYC in front of her number one adoring fan, Portia de Rossi! Complete with confetti, a tiny hat and the pose of a professional, Ellen was the hit of the show!
Article continues below advertisement
Wearing a white pant suit, the comedian walked down the catwalk at The Studio in Lincoln Center all on her own before meeting up with Richie at the end for a photo op!
OK!'S NYC FASHION WEEK BLOG: RICHIE RICH A*MUSE
Usually we see Pamela Anderson with Richie, but it looks like Richie thinks Ellen is equally as sexy for the show!