NEWS
Ellen DeGeneres Signs Greyson Chance on Her New Label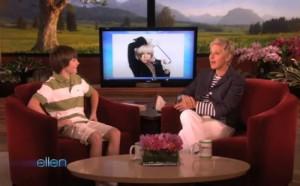 Ellen DeGeneres's latest gig as an American Idol judge has really opened her up to the music industry, so much so that she is starting her own record label! And who is the first artist signed? The inspirational 12-year-old, Lady Gaga-impersonating phenom, Greyson Chance!
Ellen has named the her new label eleveneleven, according to PopEater, and says she Greyson inspired her to start her latest endeavor.
Article continues below advertisement
OK! GALLERY: LADY GAGA DONS BEDAZZLED HEAD GEAR
The 12-year-old Oklahoman launched to fame a few weeks ago with his amazing rendition of Lady Gaga's "Paparazzi."
In a statement, via PopEater, the talk show host said, "Greyson... inspired me to start a record label called eleveneleven. He is my first artist and we are making a record together."
In a video message on her website, Ellen issues the singer a large check for $10,000.
Greyson will make his second appearance in an interview airing today on The Ellen DeGeneres Show.
"When I first met you, I said things are going to change... Now your YouTube hits are over 30 million," she tells the singing senstation.
Article continues below advertisement
Greyson's record deal with Ellen contradicts earlier reports that he signed with Interscope Records.
According to PopEater, Greyson's career is being steered by two very connected managers: Troy Carter (Lady Gaga) and Guy Oseary (Madonna).
On her May 13 show, Ellen introduced Greyson to her audience and had Gaga call him live!
"Greyson, you're so sweet and so talented, and I was so excited that you covered 'Paparazzi,' " Gaga told the sixth-grade prodigy during the earlier Ellen taping. "Everyone loves you so much. Just keep following your dreams and work really hard, and stay away from girls and be focused."
OK! VIDEO: MEMORABLE COMMENCEMENT SPEECHES
Kelly Cheek, Greyson's music teacher at Cheyenne Middle School in Edmond, Okla., told PopEater, "I have never seen anyone with his level or type of talent. We really hope he comes back to school for the rest of the year, but after this video, who knows what his future holds!"