NEWS
Is Ellen Page Drew's New BFF?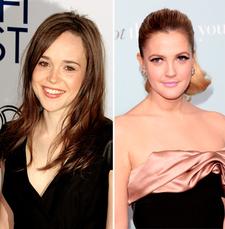 Has Drew Barrymore replaced her once main gal-pal Cameron Diaz? Juno star Ellen Page, 22, joined Drew, 34, at the Palazzo in Las Vegas on Feb. 21 to celebrate their shared birthday weekend with "birthday cakes, Red Bull and champagne," an insider tells OK!.
In fact the pair was so chummy that, standing "arm in arm" at a Cat Power show at Avalon Hollywood on Feb. 10, "Drew rested her head on Ellen's shoulder and rubbed her nose on her neck," an onlooker says.
Article continues below advertisement
Meanwhile, Drew's birthday bash proved to be nothing less than A-list. While most of Hollywood was at the Oscars, Barrymore and pals (which also included Kristen Wiig) rang in her 34th in the luxurious 3,000-square-foot, 2-bedroom Penthouse Suite at The Palazzo.
"When they arrived, the group strolled through The Palazzo casino singing and dancing to old-school jams on her boom box while walking up to their suites," a source tells RadarOnline.com.
After a dinner at LAVO, they found their way to the restaurant's outdoor hookah patio where they decided to continue their meal. "It was keeping true to their free-spirited, casual style," the source added.