NEWS
Emily Blunt Shares a Blunt Relationship Secret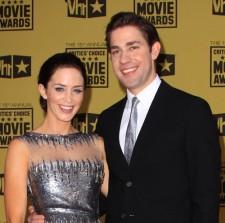 Emily Blunt seems to have her star status in check. While her success continues to grow — her new film The Wolfman opens this week and she's engaged to John Krasinski, star of The Office — she keeps her attitude the same! PopEater chatted with the soon-to-be Mrs. about her dream roles, the competitiveness of Hollywood and her relationship with John.
OK! HOT GALLERY: SIZZLING STARS AT THE SANTA BARBARA FILM FESTIVAL
Article continues below advertisement
Emily is only 26 years old and has already won a Golden Globe, but she still has some goals she'd like to reach in her career in the next few years.
"I really want to play a baddie — like a malevolent baddie," Emily told PopEater. "I haven't done that yet. That could be cool."
OK! NEWS VIDEO: EMILY BLUNT "ALMOST VOMITED" WATCHING THE WOLFMAN
She'd also love to play a Bond bad girl and said, "Hook me up! Let them know! Put my name forward!"
Emily tries to stay happy and not let Hollywood make her too competitive with other actresses.
OK! HOT GALLERY: THE WOLFMAN PREMIERES IN RUSSIA
"I completely understand when one of them gets a role over me, or vice versa," Emily explained. "Amy Adams and I are really good friends, and I think her manager said to her one day, 'You have to stop going into your meetings promoting Emily Blunt!' Laughs. She was like, 'I know, but I think Emily would be better for this part!' Laughs. So I don't really have much rivalry... or if there is any, I don't really know anything about it. Because, you know, I'm not around girls like that. The friends I have in the business, I'm always really happy for them. I think we're always happy for each other. That sounds like crap, but it's true."
OK! HOT GALLERY: JOHN KRASINSKI , DIANE KRUGER & JUSTIN TIMBERLAKE SHINE AT GOLDEN GLOBES NOMS
Emily said the secret to protecting her relationship with John, however, is staying quiet!
"Don't be a Chatty Cathy about the relationship! I think that's the secret," Emily shared. "It's vital. It's the whole deal — you have to have a dual existence. You have the acting side of it and the business life, and even doing press junkets and stuff, there's an element of performance in it. And then you have your private life and your downtime, and you have to make that 'divide.' I think that's the secret — just make the divide, and make it clear to you."