NEWS
Emily Maynard Shops Without Engagement Ring From Brad Womack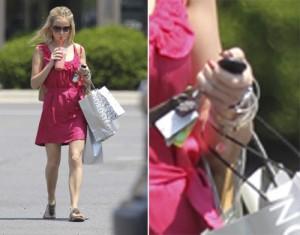 Emily Maynard went on shopping trip in her home town of Charlotte, N.C. over the weekend and seemed to be missing something — her engagement ring from Brad Womack. Brad proposed to the young mom on the finale of last season's The Bachelor, but as OK! has previously reported the couple split and Emily gave back the huge Neil Lane sparkler from Brad.
Emily went about her errands despite the paparazzi attention. She did try to cover up her ringless finger, however, hanging her key chain off her ring finger and covering it with her other hand.
Article continues below advertisement
But it was clear Emily did not have her ring on, showing their relationship is over.
OK! VIDEO: BACHELORETTE SNEAK PEEK — ASHLEY HEBERT SIZES UP CONTESTANTS BENTLEY & DRUNK TIM!
Earlier this month, OK! reported on the recent reunion between Brad and Emily when they came together for a tense lunch at Oasis restaurant in Austin, Texas, on April 29.
"She was here for the weekend without her daughter," a friend of Brad tells OK!. "They just need a little time together."
And it looks like Emily is the one calling the shots, as Brad hopes to win her back.
"Brad has been laying on the charm and it's getting to her," says an insider. "Emily was all set to move on but he just does not want to let her go and he's been doing everything in his power to get her back."
While it may have not worked out for Brad and Emily, Ashley Hebert from Brad's season is pursuing her chances at love on the hit ABC reality show, The Bachelorette, airing tonight at 9:00 p.m. ET on ABC!