NEWS
Emma Stone Admits: "I've Learned So Much" From Andrew Garfield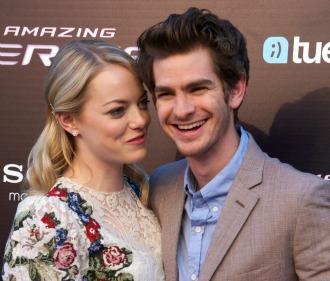 Article continues below advertisement
"He said, 'Working with Emma was like diving into a thrilling, twisting river and never holding onto the sides. From the start to the end, spontaneous, in the moment, present, terrifying, vital, the only way acting with someone should be,'" Ann told Emma of what Andrew had to say about working with her.
Emma was obviously taken aback and totally smitten with her man as she looked on googly-eyed as Ann asked, "What was it like working with him?"
"Ditto!" Emma laughed, before getting a bit more serious. "I can't quite put it as eloquently as he did, but that's incredibly kind of him to say. He is someone that I've learned so, so much from and just as an actor, he is so incredibly present and fluid and it was an honor to act with him."
And Emma, who revealed that she would "have loved to be a journalist" (an editor to be precise!) if she wasn't an actress, said that working on Spider-Man was an amazing experience and taught her a lot about how great movies are made.
Article continues below advertisement
OK! NEWS: ANDREW GARFIELD & EMMA STONE TALK SPIDER-MAN, BULLYING & OVE ON THE TODAY SHOW
"The goal of everybody behind this movie was to get into the humanity of Peter Parker and his origins and how being orphaned affects a boy growing into a teenager and what qualities come out in him, which in Peter, she her character, Gwen Stacy obviously sees a heroic quality in him before he even becomes Spider-Man," Emma explained. "So there's all these different, complicated parts to him that are affected by what happened in his childhood and that's kind of our way of getting into this."