NEWS
Emma Stone-Faced Serious at Madrid Premiere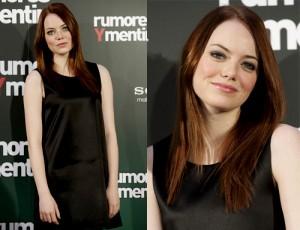 The boisterous Emma Stone was unusually calm at a photocall for Rumores y Mentiras (Easy A) at the Hopes Hotel in Madrid on Thursday. The actress replaced her vibrant smile with vacant stares and half-hearted grins for the majority of the event. It appeared as though Emma preferred to be on a couch in someone's basement with a bag of Cheetos watching Dazed and Confused than dolled up doing film promotion.
Article continues below advertisement
The redheaded bombshell may have just been a bit exhausted. Just the day before, Emma had been promoting the teen comedy in Berlin and over the weekend she had the honor of hosting Saturday Night Live in NYC
OK! VIDEO: WATCH EMMA STONE TAKE ON LINDSAY LOHAN ON FOR 'SNL'!
Easy A's director Will Gluck also attended the photocall.