NEWS
Watch Emma Stone Take on Lindsay Lohan for 'SNL'!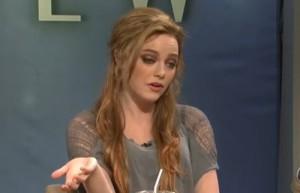 Emma Stone delighted audiences this weekend with her hosting debut on Saturday Night Live. The new Hollywood "it" girl showed off her comedic skills and took the opportunity to spoof on a fellow young redheaded actress — troubled starlet Lindsay Lohan.
Emma debuted her LiLo alongside Kenan Thompson's Whoopi Goldberg and Fred Armisen's Joy Behar character.
Article continues below advertisement
For the role, she carried in a large iced coffee, salad, and an over-sized bag filled with cigarettes, boots and her new fragrance.
She sported large sunglasses and a loose shirt with her bra showing on the sides.
"I'm way too busy to go to jail," Emma said. "I've got a movie career. I've got a fashion line. I've got photo shoots!"
Catch Emma's Lindsay spoof in the video below (via Celebuzz)! Do you think she nailed it?