NEWS
Emma Stone on Golden Globe Nomination: "Angelina Jolie? She Wishes!"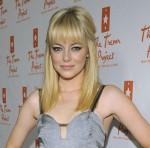 Emma Stone is already sizing up her competition for the Golden Globes Best Performance by an Actress in a Motion Picture — Comedy or Musical and says Angelina Jolie is going down!
OK! GALLERY: FIRST PHOTOS OF EMMA STONE FILMING SPIDER-MAN REBOOT!
Okay, seriously Emma says her Golden Globe nomination for Easy A came "completely out of nowhere."
"I was completely asleep because it was 5:30 in the morning, and my manger called me sounding very upset, which is what you think when someone calls you at 5:30 in the morning," Emma explained to MTV News about how she found out she was nominate. "Then I realized it was excitement and he wasn't upset. I realized that nothing was burning down and no one was hurt and everything was wonderful."
Article continues below advertisement
Emma says she doesn't think she has a chance of winning (she's up against Angie for The Tourist), but was able to joke about crushing her competition saying, "Angelina Jolie? She wishes!"
And Emma still can't believe how her career has taken off this past year.
"I don't know what's going on," she laughed. "I think a comet's going to hit my house in 10 seconds."
OK! NEWS: EMMA STONE — "SIMULATED SEX IS REALLY FUN, BUT IT'S NOT EASY!"
But she's still going to try and celebrate her nomination!
She'll be heading back to the set of Spider-Man and said she could celebrate with her co-star Andrew Garfield who was also nominated for his role in The Social Network.
"I could bring him a salted-caramel cupcake," Emma said. "But I don't know if he's eating a lot of those right now because of all the Spider-Man-ness. I could bring him maybe a bran muffin."