NEWS
First Photos of Emma Stone Filming 'Spider-Man' Reboot!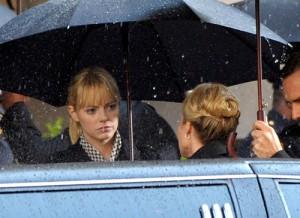 Earlier this week, Emma debuted her new blonde locks which the star is now putting to use as Peter Parker's first love Gwen Stacey in the untitled Spider-Man reboot. Emma stars alongside Andrew Garfield as Peter and Rhys Ifans as the nefarious Dr. Curt Connors/The Lizard. The actress began filming the superhero flick on Wednesday in L.A. with a funeral scene in the rain. But who is Emma mourning?
The leading guess is that Emma is filming the funeral of her on-screen dad George Stacey, played by Dennis Leary. In the comics, Gwen's dad is killed by falling debris as a result of one of Spider-Man's battles, making Gwen blame the webslinger for her father's death.
Article continues below advertisement