NEWS
'Entourage' Guys Confirm on 'Today' That Mrs. Ari's Name Will Be Revealed in Series Finale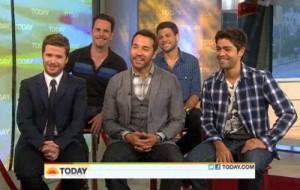 Article continues below advertisement
"A couple of things I've got know. What is Ari's wife's name?" Matt Lauer asked on Today. "Even in the credits it says 'Mrs. Ari.' "
"I can't tell you, but we'll have to have a moment and it will be awkward on live television, Matt," Jeremy said. "It will be revealed within the first few episodes."
"Is it something ridiculous?" Matt asked. "Or is it like Susan and we're all going to say, 'That's it? Susan?' "