NEWS
Eric Trump & Fiance Lara Yunaska Open Up To OK! About Upcoming Wedding – Find Out Who Is Designing Her Dress!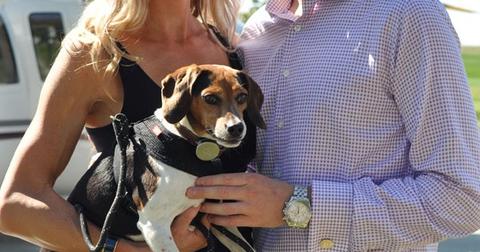 Sep. 29 2014, Published 3:37 p.m. ET
View all comments
It was the perfect day for golf – and an even better day to discuss wedding details!
Eric Trump and his fiancé, former personal trainer Lara Yunaska, came out for the Concourse for the Kids event.
The duo will tie the knot in November at Donald Trump's Palm Beach Resort. When asked what they are looking forward to most on the big day, Yunaska laughed, "Probably being done with wedding planning!
"We're looking very much forward to our honeymoon. We're going to go to Africa and then we're going to go to France."
Article continues below advertisement
PHOTOS: Hollywood's Biggest Weddings!
Although they couldn't give us too many more details, Yunaska did dish on who would be designing her dress.
"Vera Wang," she said. "And I can't say too much because then I'll have to cover his ears!"
Hosted by the Trump National Golf Club, the event raised donations for the Eric Trump Foundation, which benefits St. Jude Children's Research Hospital.
"We're incredibly blessed with everything that we have in life," Donald Trump's son Eric exclusively told OK! "There are a lot of people out there who don't have that same luxury. The ones that really topped the scale for me were kids.
PHOTOS: George Clooney And Amal Alamuddin's Wedding LIVE! — See The Latest Photos
"They are six months old, they are battling things like leukemia and all these awful brain tumors. To know that you could help them, they make a big difference with the backbone of an organization like ours behind it."
But the event, which included a golf shootout, silent auction and car show, isn't the only way Eric Trump hopes to support St. Jude's.
"All the hotels are on board all the golf courses are on board," he said, planning to donate $4 million at the event. "We have a couple of great golf tournaments and we do a great walk across the Brooklyn Bridge with Elvis Duran. It's a lot of fun."