NEWS
Erin Andrews Receives Gun Threat in Email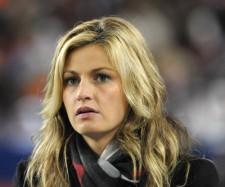 There has been yet another email sent to Erin Andrews threatening her life, says a new report, and this time the letter outlines exactly what kind of gun the sender would use to hurt the Dancing with the Stars contestant and ESPN correspondent.TMZ says they've obtained another email making threats against Erin. The first few violent letters were sent at the end of March; before that time, the emails were mostly of a sexual nature.
Article continues below advertisement
In this one, sent to DirecTV's The Dan Patrick Show on March 29, the Newport News, Va. man reportedly writes: "I would like to see if Erin Andrews can dance her way through a hail of gunfire. Better yet I would love to shoot her with a Barrett rifle. Get the pun -- her stalker was mr. Barrett and the barrett rifle is an ultra expensive 50 cl. rifle with a range over a mile."
OK! NEWS: DWTS CONTESTANT ERIN ANDRWES FACED WITH DEATH THREATS
However the FBI is yet to make an arrest, as the man writing the letters is apparently engaging in free speech.
The author of the letter is said to be "very bulky" and 6'9", TMZ says.