NEWS
Erin Barry: "I Did Not Have an Affair With Tony Parker"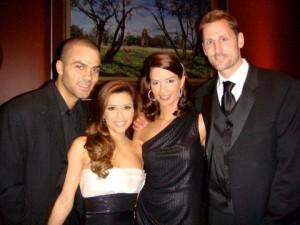 Erin Barry, the wife of Tony Parker's former teammate Brent Barry, is speaking out on the reports suggesting she had an affair with Eva Longoria's husband.
OK! NEWS: TONY PARKER'S ALLEGED ROMANCE — A CLOSER LOOK AT BRENT BARRY'S WIFE, ERIN BARRY
According to TMZ, Erin reportedly posted an open letter on her website addressing her alleged connection to the Tony and Eva divorce scandal.
"It has been brought to my attention that people who do not know me think that I have had an affair with Tony Parker," Erin reportedly began her letter. "I have received hundreds of emails and phone calls from supportive friends who do know me and know that what is being insinuated about me is a complete lie. I am so busy with my children and law school studies that to take even a few moments out of my day to address this ludicrous issue is an annoyance."
Article continues below advertisement
"I only take the time to explain myself because apparently my silence, as a result of my indifference, has been construed as an admission of guilt," she stated. "These are my words and this is the last you will hear from me on this subject because I have more important things to do."
OK! NEWS: TONY PARKER ALLEGEDLY "SEXTED" WITH ERIN BARRY, BUT WASN'T "PHYSICAL"?
And then Erin declared her innocence.
"I DID NOT HAVE AN AFFAIR WITH TONY PARKER, nor did I 'pursue' Tony Parker," she wrote. "Unfortunately, because our divorces are occurring at the same time, great speculation has been cast on our friendship. My friendship with Tony Parker had nothing to do with the end of my marriage (which is painful enough without this added drama), and to assume that we had an affair is naïve, ridiculous, and completely misguided."
Article continues below advertisement
Tony also reportedly denied having an affair with Erin. He did, however, allegedly admit to sexting with his former teammate's wife, which Eva apparently found on Tony's phone.
What do you think of Erin's letter? Do you think her divorce from Brent at the same time of Tony and Eva's divorce is purely a coincidence?