NEWS
Tony Parker's Alleged Romance: A Closer Look at Brent Barry's Wife, Erin Barry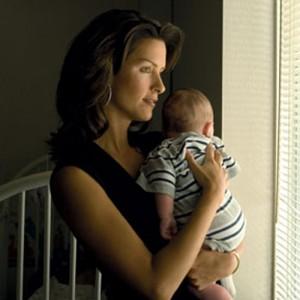 Wife. Mother. Advocate for abused children. Caseworker. Mistress? The last title doesn't seem to describe Erin Barry, the wife of San Antonio Spurs guard Brent Barry whose name is now entangled in the highly-publicized Tony Parker and Eva Longoria divorce. Today, news broke her husband would be filing for divorce, heightening suspicions Erin had relations with Tony.
So who exactly is Erin? OK! takes a look the NBA wife with the help of an article published by the San Antonio Women Magazine in the summer of 2006.
Article continues below advertisement
Some key points from the profile written by Susan Speer:
OK! NEWS: FIRST ERIN BARRY/TONY PARKER SCANDAL; NOW EVA LONGORIA'S ALMA GIG AXED
• Born to a single, teenage mom and adopted by a young couple. She grew up in San Francisco.
• She attended an all-girls Catholic school, and in the setting, she met Brent Barry, who attended the boys' Catholic school across the street. "We went to a movie, National Lampoon's Christmas Vacation — that tells you how long ago it was! I remember looking at him in the theater, and at that moment, Cupid drew back his bow. I was 16 years old and I just knew he was the one I wanted to be with. That was it."
• She fostered Brent's dreams of playing pro ball."Brent took me to a Golden State Warriors game. I remember looking up in the rafters, and I saw a retired jersey hanging there with the name 'Barry' on the back. I said something like, 'Hey, look, there's a jersey with your last name on it!'" The jersey belonged to Brent's dad, NBA Hall-of-Famer Rick Barry. "My dad was so embarrassed that I didn't know who Brent's dad was," she laughs.
Article continues below advertisement
• She attended University of Oregon, and Brent got a basketball scholarship to Oregon State. After his first couple of seasons in the NBA, they married in a cathedral wedding in San Francisco in 1998.
• She's followed Brent as his basketball career has placed him on five different teams in 11 years.
• She also seems to find ways to immerse herself in the community that makes it seem like she's a native.
• The Barry family moved to San Antonio in 2004.
• Erin has a decade of experience as an advocate for abused and neglected children,"It is hard, it's very hard work," she says. "People always ask me how I do it. I say, 'How can I not do it?' "
• She joined the executive committee of the Blue Ribbon Task Force as an outlet to familiarize herself with more than the hands-on casework she had been used to.
• Always had a maternal instinct. They have two sons Quin, 9, and Cade, 4."It's hard to make friends, to build that network outside of basketball when our schedule is so different from everyone else's," she says. "I'm a little jealous, actually, that other moms have that more traditional schedule."