NEWS
'Esquire' Names Rihanna "Sexiest Woman Alive"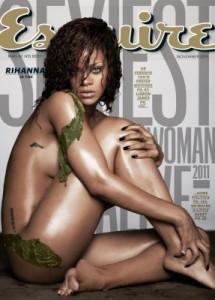 Barbados born performer Rihanna is known as much for her singing as her sexy dance moves on stage. So much so that Esquire named the Grammy winner the "Sexiest Woman Alive" as the cover story for their November issue.
In her dressing room before a show, Rihanna told Esquire it's like a pre-game ritual when she talks to her vocal coach and takes a shot! "I eat lozenges, steam my voice, do my makeup. I Skype my vocal coach and we sit there at the makeup table and do warm-ups for about a half-hour."
Article continues below advertisement
She added, "Then, Jen, my personal assistant slash bartender, brings me a shot that she dilutes with a little something so it's not so harsh, like orange juice or soda water and lime."
OK! GALLERY: RIHANNA ROCKS DRAMA-FREE IN IRELAND
So, why does she have a shot? "I have to have it. I take it very seriously, so there is a level of anxiety, always. I overthink everything when it comes to my job. The drink calms my nerves. I sip it while I watch the opening act from my dressing room. Sometimes I go out into the audience. I put on a really big hoodie and sneak out there."
OK! NEWS: RIHANNA CAN "TALK THAT TALK" BUT IS NO ROLE MODEL
Once she "sneaks out there," Rihanna explained, "My head is down the entire time. I'm hearing the music and I know I only have like twelve seconds left to get into the cage, drink my water, finish the liquor, check my mic. Then I have like three seconds where I get to pray, again, for myself, and for the audience. I always pray for the crowd."
After the show itself it sounds like Rihanna is on an energetic high! "It has a lot to do with the audience. Their energy is undeniable. You get off stage, and it's like crying and laughing at the same time. It's hard to turn it off when I leave stage.
OK! NEWS: RIHANNA'S NEW ALBUM DUE OUT THIS FALL!
The November issue of Esquire hits newsstands on October 16.