NEWS
Rihanna Can "Talk That Talk" But Is No Role Model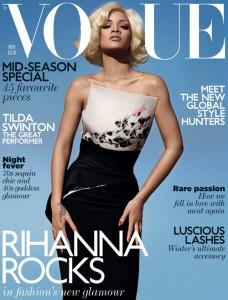 Rihanna is moving full speed ahead with her sixth album having released the title of it today, but when it comes to being a role model to her fans — that's not a title she wants to take.
OK! GALLERY: RIHANNA UPSETS IRISH FARMER WITH RACY, TOPLESS VIDEO SHOOT ON HIS FIELD
Rihanna played a game with her fans on Facebook to today to make them work for the reveal of her new album title.
Fans had to "like" her page to "unlock" the answer. "Mission #5: UNLOCKED! Rihanna's new album, TALK THAT TALK, out November 21st! #TalkThatTalk," Rihanna posted on Facebook.
Article continues below advertisement
The singer may be able to "Talk That Talk" in her songs and videos, but Rihanna says that is just an act.
OK! NEWS: RIHANNA'S NEW ALBUM DUE OUT THIS FALL
"That's not me. That's a part I play," Rihanna explains of her controversial videos in the new issue of British Vogue (via MTV News). "You know, like it's a piece of art, with all these toys and textures to play with."
"See, people ... they want me to be a role model just because of the life I lead. The things I say in my songs, they expect it of me, and being a role model became more of my job than I wanted it to be," she says. "But no, I just want to make music. That's it."
Do you think Rihanna needs to act like a role model regardless of whether or not she wants to?
What do you think of her new Vogue cover?