NEWS
Eva Longoria Parker, Amber Valletta Help Haiti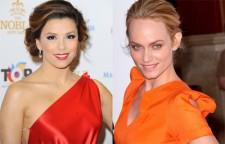 Even though superstars raised millions during the Hope For Haiti Now Telethon to benefit the victims of the January 12 earthquake, more help is desperately needed.
Eva Longoria Parker, Amber Valletta and Maria Bello are heeding the call with their Raise The Roof For Haiti campaign, which aspires to provide 100,000 tents to Haitians within the next two weeks as they endure rainy season.
"The rainy season has already started," supermodel turned actress Amber tells me. "Shelter is the most important thing because people will get sick. The threat of malaria, cholera, typhoid – all of those things will spread rapidly, and thousands of people will die."
Article continues below advertisement
Raise The Roof For Haiti was born out of a dinner party conversation between the three actresses during a Haiti benefit in February.
"Eva is one of the smartest, tour de force people I've ever met," Amber says. "When she puts her mind to something, she gets it done. She spearheaded this whole thing and contacting us with people so quickly. She's amazing."
While married mom Amber gets the word out about the organization, Maria will be on the ground in Haiti this weekend delivering tents.
"There's video on the Web site where you can see people living under bed sheets and a stick, and children with a couple bricks and rocks with a sheet over it," Amber says. "There is nothing more urgent right now than getting people shelter in Haiti. It doesn't matter where they are in Haiti – it doesn't matter if they're in this well-organized place. They still need tents too. The best camp there, we've learned, they need tents. Everybody needs tents."
MORE ON:
Eva Longoria Parker
Article continues below advertisement
What is the scene like in Haiti nearly three months after the earthquake hit?
"Haiti is devastated. Just because there are hundreds of people working down there to help them, they're not much further along. They already had a long way to go just to be OK before the earthquake. They're making hospitals in camps that are safe and secure out of tents, and supplies they're getting from the UN. It's very raw. It's very basic."
She continues, "People are as organized as they can be, but close to a million people are displaced. How can that be well organized? It's very difficult making sure that everybody's getting food, water, safety, shelter, medicine."
According to Amber, money is the most immediate need for the people of Haiti.
"Every organization needs money because they all need supplies. The other urgent need is inoculation because the rainy season is here and disease is going to spread anyway. It's going to spread hopefully in smaller amounts, but because it's rainy there and people don't have proper sanitation equipment, it's going to spread. They definitely need to get babies and elderly people inoculated for these diseases."
Final thoughts?
"I would just love to make sure that people go to ahomeinhaiti.org, and buy as many tents as possible and spread the word through Facebook, Twitter, e-mail. We need to get these people some shelter so they don't die."