NEWS
Eva Longoria's Holiday Plans: "An Assembly Line of Tamales"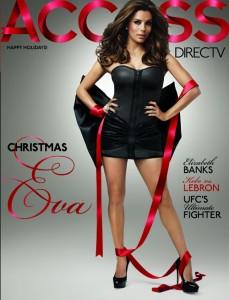 Eva Longoria is dressing up the holidays on the cover of the December issue of DirecTV's Access magazine. Growing up on a ranch in Texas, Eva didn't always dress the way she did for the cover but she'll never forget her roots!
OK! NEWS: EVA LONGORIA PLANNING TO ADOPT?
"I went hunting with my dad, rode horses, bottle-fed baby calves, helped my dad help a cow give birth," Eva told Access about growing up in Corpus Christi, Texas.
Article continues below advertisement
Eva was the youngest of four girls and said her sisters would call her La prieta fea, or "the ugly, dark one."
But it doesn't sound like Eva doesn't hold an grudges against them for that now!
The Desperate Housewives star is 70 percent European (Spanish), 3 percent African and the rest Asian/Amerindian.
"I'm related to Yo-Yo Ma!" she said. "Although he got all the talent."
OK! NEWS: BRENT BARRY FILES FOR DIVORCE FROM ERIN BARRY AFTER ALLEGED TONY PARKER SCANDAL
The holidays are a time for give to those less fortunate and that's something Eva tries to do all year round.
"The biggest misconception is that you have to be rich and famous to make a difference," Eva explained. "The most successful movements of the past hundred years were started by ordinary people seeing an injustice in the world and caring enough to do something about it."
"I think it's our responsibility as global citizens, not just Americans, but as global citizens being part of this world, to give back in some way shape or form," she added.
OK! NEWS: TONY PARKER FILES FOR DIVORCE IN TEXAS
As Eva is currently going through a very public divorce from her husband Tony Parker, her attitude may have changed about the holidays this year. But somehow we think she's still looking forward to spending time with her family!
"Every holiday we'll get together — my aunts and sisters, all the women in the family — and we'll do an assembly line of tamales," Eva shared. "It's one of my favorite times of year."