NEWS
Eva Mendes' Dog Takes Her for a Walk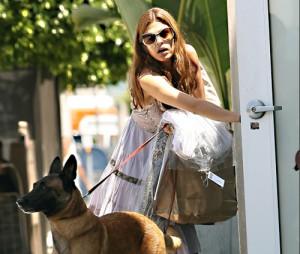 That is one unruly pooch! Eva Mendes' dog pulled her along the streets of L.A. on Thursday. The big-screen beauty looked like she was struggling with man's best friend — hey, we've all been there before! Even though the actress was slightly in distress, she still managed to look stunning and didn't even break a sweat in hot Cali sun!
OK! NEWS: EVA MENDES — "I'M MORE THAN JUST SEXY!"
While Eva is revered in Hollywood for her gorgeous looks as well as her acting, she wanted to set the record straight in Allure magazine.
MORE ON:
OK Galleries & Photos
Article continues below advertisement
"I'm definitely responsible for the image that I put out there. But it does become frustrating because I don't want 'sexy' to be my defining characteristic," she says in the August 2010 issue of Allure magazine. "I'd love for my ambition and will and intellect and sense of humor to define me as well."