NEWS
Evan Rachel Wood Caught Singing Justin Bieber by George Clooney: "That Was Terrifying"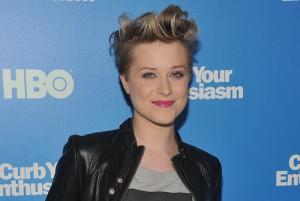 Article continues below advertisement
"I never do stuff like that, so it's kind of fun to once in a while just be like, 'Look, you don't have to take yourself so seriously ALL the time. Here's me singing Justin Bieber! Lighten up, everyone!' " she explained.
And Evan Rachel admits she wasn't just singing along...
"Oh, no, no, no. I committed!" she laughed. "Oh, dear."
OK! NEWS: EVAN RACHEL WOOD'S SECRETLY CRUSHING ON JUSTIN BIEBER
"And speaking of Justin Bieber: Clooney was around for when I first saw Never Say Never and I got super into it," the Ides of March actress revealed. "I was a changed person. And I was dancing and singing, and then I noticed that the set was really quiet, and then I looked, and the camera was rolling and George is standing there."
"And he just said, 'Enjoy the DVD!' and he walked away," Evan Rachel recalled. "So that was terrifying."
But Evan Rachel didn't mind the presence of her other co-star, Ryan Gosling, on set.
"Honestly — and he should really thank me for saying this — I get the feeling when he walks into a room that that must have been how people felt when James Dean walked into a room," she said. "Just like, 'Whoa, what just walked in?' There's something really special here. It's that striking. I think he's the James Dean of now. And he'd better kiss my ass for saying that."