NEWS
Evangeline Lilly Joins 'The Hobbit' and Will Play a New Character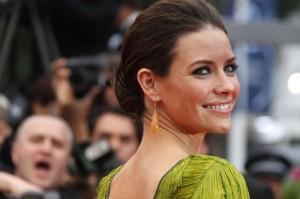 Lost star Evangeline Lilly can be found in Peter Jackson's The Hobbit and he's very excited to have her!
OK! NEWS: EVANGELINE LILLY "GOING TO CRY LIKE A BABY" WHEN LOST ENDS
The Hobbit director took to his Facebook page to announce the good news that Evangeline will join the two-part Lord of the Rings prequel.
"Evangeline Lilly will be playing a new character — the Woodland Elf, Tauriel," Peter wrote. "Her name means 'daughter of Mirkwood' and, beyond that, we must leave you guessing! (No, there is no romantic connection to Legolas.) What is not a secret is how talented and compelling an actress Evangeline is; we are thrilled and excited she will be the one to bring our first true Sylvan Elf to life."
Article continues below advertisement
OK! NEWS: PETER JACKSON'S THE HOBBIT OFFICIAL FILM TITLES & RELEASE DATES ANNOUNCED!
And then he announced more casting news for the film!
"I'm also highly excited that Barry Humphries will be portraying the Goblin King, in much the way Andy Serkis created Gollum," he added. "Barry is perhaps best known for his business and social connections as the long-time manager of Dame Edna Everage. He has also been an ardent supporter of the rather misunderstood and unfairly maligned Australian politician, Sir Les Patterson. However, in his spare time, Barry is also a fine actor, and we're looking forward to seeing him invest the Goblin King with the delicate sensitivity and emotional depth this character deserves."
The films are set to hit theaters in December 2012 and December 2013.
According to Peter, these new casting announcements "just about round out the major casting."