NEWS
EXCLUSIVE! Ke$ha Talks About Being Horny In Tonight's 'My Crazy Beautiful Life'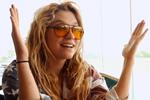 If there's one thing we know about Ke$ha, it's that she likes glitter is really, really open about pretty much everything. Her music, her love life, her obsession with beards—nothing is off limits. Hence why we are not even a little bit surprised that in tonight's episode of My Crazy Beautiful Life, Ke$ha gets pretty candid about, um, being horny.
Photos: 5 Things You'll Learn About Ke$ha By Watching Her Show
Article continues below advertisement
Check out our EXCLUSIVE clip to see what she told the camera crew (her brother, PS) about her sexual dry spell and why she's got, uh, male genitalia on the mind. PS, as you may have guessed by now, this clip is not safe for work.
Photos: Ke$ha and Other Pop Stars Who Have Reality Shows
And make sure to watch an all new episode of My Crazy Beautiful Life tonight at 11pm on MTV! Have you been watching Ke$ha's show? Do you like that she's so open about her life? Tweet us @OKMagazine!