NEWS
Exclusive 'Mob Wives' Clip: Karen Shares Her Parenting Rules With Dave's New GF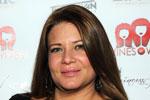 Every parent has his or her own and very different set of rules. Some kids can stay out past midnight, while others aren't allowed to take any cookies out of the cookie jar before dinner.
Mob Wives star Karen Gravano takes her parenting rules and her role as Karina's mom super seriously. Mom knows best, right?
OK! News: Derek Hough Is the OK! Hottie of the Day
In this episode, you'll find out what happens when Dave's new GF took Karina to the doctors without Karen's permission. Dave, his girlfriend and Karen sit down to what you would assume was a friendly "getting to know you" lunch.
Article continues below advertisement
Photos: Get the Festival Look!
Well, you know what they say about assuming! This lunch was most definitely not friendly. After some small talk, Karen takes the opportunity to let Dave's new girl in on the rules. Here's a hint: Karen ends the lunch with a "Number One" in front of her name.
Watch: Trouble Between Ramona, Karen and Carla
Take a look at this sneak peek of Sunday's Mob Wives episode. Tune in on Sunday, March 17th at 10 pm ET to watch the entire show.