NEWS
Exclusive! 'Twilight' Star Judi Shekoni: Rob Pattinson & Kristen Stewart Helped Me Relax On Set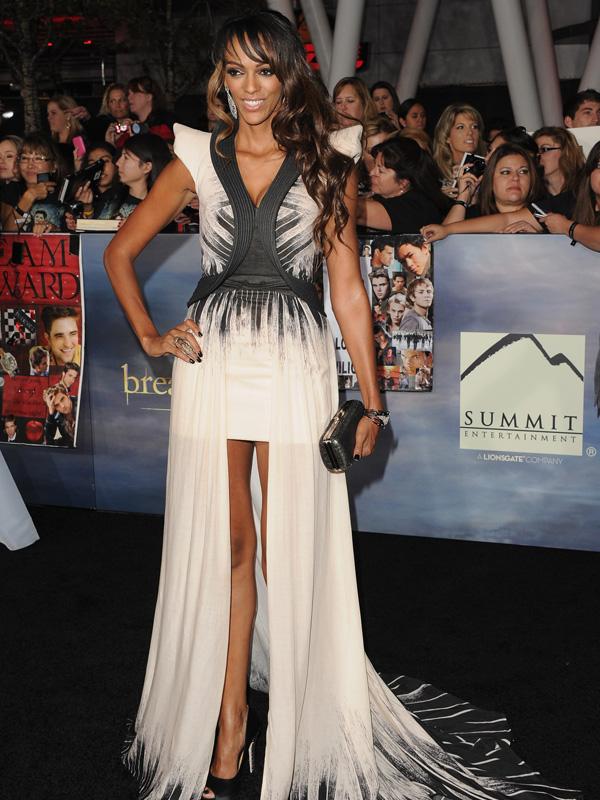 Twilight star Judi Shekoni has come a long way after first making her name in a British soap opera to now being a part of one of the most successful movie franchises ever.
The beautiful actress opens up to okmagazine.com about her journey, working with Robert Pattinson and Kristen Stewart and how she got into amazing shape for her role as vampire Zafrina in Breaking Dawn - Part 2.
Judi also gave us an insight into a few of her favorite things...
Article continues below advertisement
You are now in a huge movie after after being very perseverant - what has been the most challenging part while waiting for your 'big break?'
Probably knowing whether to stay in LA or move back to London. You are never sure where is the right place to be - and get a little concerned that the dream job could be back home in England and you make the wrong choice with the move!
How was it joining the established cast - were you welcomed?
Its was great - it was just so nice to be part of something that is the closest to being guaranteed success as we get in this business. The established cast have ran this race before so their ease flowed through to us and allowed us newer cast to relax and not take it so seriously. They were extremely welcoming as well - I think they are used to a whole new group of vamps arriving each movie and I also found that because we were all working with a new director there was an element of us all still finding our place.
Article continues below advertisement
What qualities do you have which are similar to your vampire character Zafrina?
Definitely the physical. The height can't change. And I also hope I have some of her better qualities such as her love of family, desire to protect the weaker and courage to fight when needed. Also I hope some of the fun qualities such as her animalistic way of moving rubbed off - there are qualities she has I would love to have too.
How did you get in shape for the role?
Gym Gym Gym. I primarily concentrated on weights as I wasn't trying to lose weight more gain muscle. I also went hiking a lot in the Hollywood Hills which is a great physical and mental work out.
What was going through your mind when you stepped out onto the red carpet for the premiere in Los Angeles?
Trying to keep it together, hoping that people would understand my dress since it had slight shoulder horns and a long train! And then doing my best to make sense in the many, many, many interviews. The dress was a risk and quite high fashion for an LA premiere so I was excited to know if it would be received well. I also was looking forward to watching the movie with the fans and hearing them scream. I had attended the premiere of Breaking Dawn Part 1 so I knew how large their reactions were and I was excited to be a part of that experience again.
Article continues below advertisement
Who do you think Bella should have ended up with Edward or Jacob?
Edward - I feel like they are meant to be. Also I want to believe you can end up with your first choice - the one that gives you the goosebumps not the friend who hung about long enough that you finally gave in!
What's next for you career wise? What are your aspirations going forward/ideal movie role?
I will be shooting a film in Africa in the new year, and other than that I really hope that I may continue to work in film. I do love Sci-fi and futuristic films and I think my look is quite suited to that so hopefully some fun opportunities will come along soon!
OK!'s Five Faves
Fave food?
Chocolate!
Fave vacation spot?
Bali - one of my best friends live there - it's perfection.
Fave time of year?
Christmas - particularly in England. Oh the Christmas lights, Christmas crackers, trees love it all.
Fave role so far?
Ah that has to be Zafrina right now.
Fave music to work out to?
Rihanna - probably the song 'Say My Name' I love songs with a bit of power and guts to them to motivate me to pick up those heavier weights.