NEWS
Exclusive! 'X Factor' Star Jillian Jensen Reveals Bullying Led To Self Harming And Talks Bond With Demi Lovato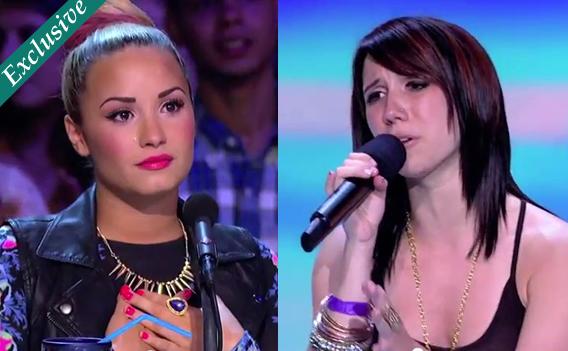 Did you watch The X Factor premiere last night? Well if you did you are unlikely to have had a dry eye watching Jillian Jensen's heartbreaking story of being bullied as she valiantly auditioned for the four judges. It even got Simon Cowell emotional - and you know that never happens!
And in an exclusive interview with okmagazine.com, Jillian reveals the passion behind singing for Britney Spears, L.A. Reid and her idol Demi Lovato who she totally identifies with because she was a victim of bullying too. You can watch the video below.
Article continues below advertisement
Jillian tearfully recalled when the situation became too much to bear.
OK! GALLERY: BRITNEY SPEARS AND DEMI LOVATO HEAD TO RHODE ISLAND FOR X FACTOR AUDITIONS
"That's when I started self-harming," she revealed bravely. "I used an eraser on my skin. I just wanted to erase myself from everything. I erased my skin until I would bleed."
"This is so emotional for me to talk about. But I want to let it out in the hope that it helps other people going through the same thing.
Article continues below advertisement
Jillian sang Jessie J's poignant song, Who You Are, which she sang for victims of bullying.
"I always told myself that if I ever made it on TV I would dedicate my performance to those who had been through the same thing. I couldn't have chosen a better song," the 19-year-old said.
OK! GALLERY: DEMI LOVATO ROCKS OUT ON GOOD MORNING AMERICA
"Regardless of what happens from here - I've done what I'm supposed to do. I didn't audition just for myself. That's not my purpose. I just want others not to feel alone."
While watching her audition, Demi also became tearful.
"You can feel that pain," Demi whispered to Britney during Jillian's performance and later told her, "When you sang you broke my heart."
Jillian added that when she found out Demi was going to be a judge this year it was "unbelievable".
"The feeling like all your stars had aligned. The idea that I had always told myself that was my goal and just to have Demi react that way. I get goose bumps thinking about it. I couldn't believe it was real. She has been the biggest inspiration. She gave me so much courage."
Article continues below advertisement
Jillian has a "Stay Strong" tattoo just like her idol and says it was those words that she would tell herself as she cried herself to sleep at night.
Even tough-as-nails Simon choked up during Jillian's audition which has never happened in the history of his time doing talent shows.
"Only time in my life that I lost it - never did that in my life!" Simon said leading Demi to surprisingly gasp, "Oh you have a heart!"
OK! GALLERY: THE ULTIMATE BRITNEY SPEARS PHOTO GALLERY!
Jillian, wiser than her years, says that if she hadn't gone through her horrific experiences she wouldn't be "the person who I am today" and she no longer feels animosity towards the bullies.
"Now I am at ease, they don't matter to me anymore. Their voices were constantly in my head and it sucked. But I've let go of the hate," she told us.
Jillian is looking forward to a career as a singer songwriter but maintains that she'll always work towards helping victims of bullying.
Article continues below advertisement
WATCH JILLIAN JENSEN'S EMOTIONAL X FACTOR AUDITION HERE: