NEWS
Fall Out Boy Is... Dangerous?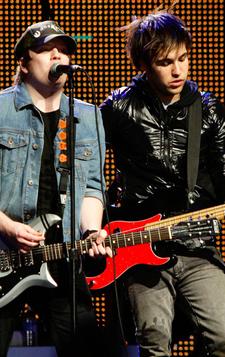 Who says guyliner and a bit too much hair gel is dangerous?
Apparently Boca Raton thinks Pete Wentz and Fall Out Boy are the kind of act that really throws down, as they've banned the band from performing in the city.
A statement from the city reads: "There have been known disturbances associated with one of the bands, 'Fall Out Boy.' We anticipate that the concert will generate security challenges."
Article continues below advertisement
(Life is full of challenges, we say, but hey, it's their city.)
"I'm not sure what these 'challenges' are that they are speaking of," says Fall Out Boy manager Bob McLynn. "The town said that if we tried to keep the show on we would have to pay an extraordinary amount of money in extra costs."
No worries for the fans, however; the show will be relocated to Pompano Beach Amphitheatre on the same date, and all ticket to the original show will be honored.