NEWS
Fall Out Boy to Play Simpsons Theme Song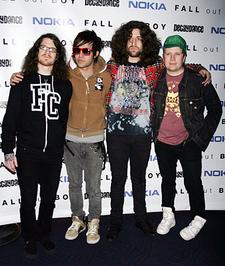 Fall Out Boy is paying homage to their fans and the citizens of Springfield when they perform their rendition of The Simpsons theme song during the end credits on Sunday, Jan. 25.
The band, which includes new dad Pete Wentz and named after the sidekick of Simpsons character Radioactive Man, will play their own rendtion of the iconic theme song originally composed by Danny Elfman.
Emily Blunt will also lend her voice to the episode, titled "Lisa the Drama Queen," playing Lisa's equally academic and creative new friend Juliet.
Article continues below advertisement
Fall Out Boy's performance coincides with the band's nationwide tour set to kick off this April.