NEWS
Family & Friends Gather to Remember Heath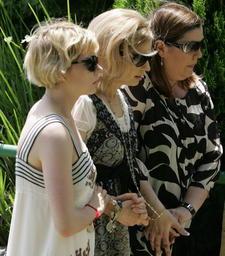 It was a scene Heath Ledger's family had certainly never hoped nor expected to see, as they said farewell to their beloved son and brother in a private memorial service in the actor's hometown of Perth, Australia, on Saturday.
"It's a pretty sad time and we are finding it difficult to cope by ourselves," said Heath's father Kim before the service. "We do really appreciate the outpouring and the emotional support from all over the world."
Article continues below advertisement
Joining the Ledger family for the memorial at Penrhos College, a private boarding school outside of Perth, was Heath's former girlfriend, and mother of their 2-year-old daughter Matilda, actress Michelle Williams. The Dawson's Creek star arrived at the service with Heath's sister Kate, who recounted childhood tales and memories of time spent with her brother.
Oscar-winning actress Cate Blanchett gave what one mourner described as a "funny and moving eulogy" to the crowd of over 500 mourners, including model Gemma Ward, who was reported to have been romantically linked to Heath.
A note in the program handed out to guests read: "This room is filled with the love we all felt for a great friend who will be missed by all of us. We want to thank those of you who took care of him and participated in his beautiful life."
Throughout the two-hour service, a number of video montages focusing on Heath, his work, his family and friends, played. The clips were scored to songs from some of the actor's favorite musicians, including The Beatles and his good friend Ben Harper.
Following the memorial service, an intimate funeral for less than a dozen members of the actor's immediate family was held at Fremantle Cemetery, where Heath's cremated remains were laid to rest.