NEWS
Fergie & Josh Duhamel Plan for Children in the Future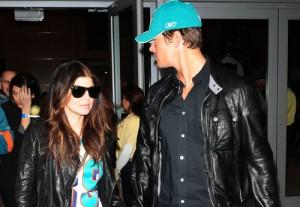 Overcoming a cheating scandal in their first year of marriage, Stacy 'Fergie' Ferguson and her hubby Josh Duhamel reveal that they are happier than ever and are saving room for children in the future.
"I have always loved kids… I am happy with one, but I will take seven," Josh gushed to reporters at a Red Cross event on Saturday.
BLACK EYED PEAS REMEMBER THEIR ROOTS
But, the Black Eyed Peas front woman explained that the couple may have to wait a bit longer for babies.
Article continues below advertisement
"Sometime definitely in the future, yes," Fergie revealed of holding off on baby plans because of her worldwide tour, "After the tour because I can't be jumping around with those other boys if I am."
And, the adorable pair agrees that adoption is not out of the question.
"I would love to adopt, especially the more you learn about the kids that are out there that need parents. I am a supporter of adoption," Josh explained at the Fairmont Miramar hotel with his wife close by.
FERGIE AND JOSH ROOT FOR THE HOME TEAM IN MIAMI
For now, Fergie and Josh are just trying to enjoy being in the newlywed stage.
"It's going great, aside from the scandal," the 35-year-old singer gushed of her marriage, "The most romantic thing that Josh does for me is that when we go on our hikes, he always picks the prettiest flower and puts it in my hair. It's really cute and its kind of our hippie side."
Fergie recently starred in the musical flick Nine alongside Nicole Kidman and Kate Hudson.