NEWS
Fergie Talks Success: "I'm a Survivor, and I'm Very Driven"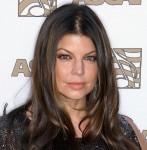 Black Eyed Peas front woman Fergie credits her drive for helping her achieve such career heights, advising young women who want to make it big that high self-esteem is "addicting".
The singer talked to Katie Couric for Glamour magazine's Women of the Year issue, admitting that her ambition has helped her achieve her goals.
OK! NEWS: FERGIE'S NOT QUITTING THE BLACK EYED PEAS
"For some lucky reason or gift from God, I've known what I wanted to do since I was a little girl. And even through disappointments and rejection, there was something inside of me that wouldn't give up. I'm a survivor, and I'm very driven."
Article continues below advertisement
She outlines her intense workout program: "Cardio, resistance and a lot of jogging. I love to go hiking. I'm bringing my trainer on tour. I said I'm going to invest this in myself, into my self-worth, into my self-esteem."
OK! NEWS: JOSH DUHAMEL "LEARNED A LOT" FROM TOM CRUISE & KATIE HOLMES
To Katie's question about body image, whether she has any advice to young women "filled with self-loathing", Fergie says: "It's become actually the norm, I feel. And it's really sad.
"The thing that I can say is, you're not alone. And if you start making the right choices for yourself, all of a sudden you start feeling better and better. You'd be surprised how addicting high self-esteem is."
OK! NEWS: JOSH DUHAMEL TALKS FATHERHOOD: FERGIE'S "GOT A PLAN"
So how can women succeed in showbiz today? "There were periods of my life when a lot of people didn't believe in me. But I still had faith in myself, says Fergie.
"I really had to ask myself life questions. Where do I see myself in five years? Create a ladder for yourself, and walk up the steps. Climb that ladder."
OK! NEWS: FERGIE SAYS J.LO WILL BE "AMAZING" AS AMERICAN IDOL JUDGE
The singer, who's married to Transformers actor Josh Duhamel, also reveals that it's that self-esteem that stops her from worrying about other women going after her husband. "For me, I'm not a jealous person. That's just not my thing. You have to have trust in your relationship."